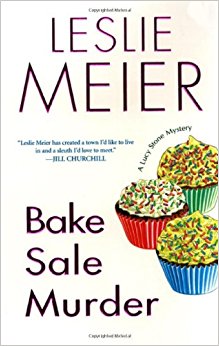 Bake Sale Murder by Leslie Meier
Review by Lauren
source: e-copy from library; all opinions are my own
Official Summary:
Ever since local developer Fred Stanton and his wife, Mimi, built five modular homes next door to Lucy Stone's farmhouse, life just hasn't been the same. With Mimi complaining about everything from the state of Lucy's lawn to another neighbor's lovable dog, quaint Tinker's Cove, Maine, is now entangled in cul-de-sac politics and backstabbing. And when Mimi doesn't show up for her shift at The Hat and Mitten Fund bake sale, the scent of burnt sugar leads Lucy to a shocking discovery: Mimi, face down on her kitchen floor—with a knife in her back.
While the police start their investigation, Lucy gets busy writing up the murder for the local Pennysaver—and following a few leads of her own. Lucy knows the women in her neighborhood didn't like Mimi, but they certainly didn't want her dead…right?
Review
: This is the second book in the cozy mystery series following Lucy Stone that I've read. Technically, it's the 13th in the series though. While cozy mysteries are nice to read in order because you get the everyday life progression of the main character, it's not entirely necessary. This book did a great job showing you who Lucy was, as well as her family and neighbors. Each book also contains a separate mystery, so if you want something quick, then grab a cozy. I do recommend the Lucy Stone books as it's nice to place yourself in Lucy's shoes for a bit. While Lucy is not involved in law enforcement, she is a part-time reporter for her local newspaper. This job certainly helps her use her more curious side, so when there is an obvious murder in her own, Lucy is dead set on investigating. There were times where I thought Lucy should have been more careful, but all in all, she's not terribly reckless. Some of her digging in Bake Sale Murder contained her own daughter, after all, so it makes sense that a parent would go searching for information.
I thought Bake Sale Murder was a great look at neighborhoods and how you don't necessarily know someone just because they live next door. Readers get to know a lot about Mimi in her family but also the other neighbors nearby. A lot of people have possible motives, so it's not easy to guess the culprit. As the book nears the end, most of the mystery begins to become clear. This doesn't ruin the big surprise though. Instead, I think it makes a reader feel like Lucy. All the facts and information have been laid out and the culprit(s) suddenly come to light!
A fun read! Oh, and in case you're wondering, the first Lucy Stone book I read was actually the first book in the series! Now check out my next review, which is another Lucy Stone novel!
Interested in reading? I'm an amazon affiliate- I get a small percent of any sale. Check out the print copy of Bake Sale Murder or the e-book copy.
Easter Bunny Murder by Leslie Meier
Review by Lauren
source: e-copy from library; all opinions are my own
Official Summary:
Spring has sprung in Tinker's Cove, and Lucy Stone has a mile-long to-do list. From painting eggs with her grandson, to preparing the perfect Easter feast, to reviving her garden after a long, cold winter, she hardly has time to hunt for a killer with a deadly case of spring fever… Lucy has always loved covering the annual Easter egg hunt for the Pennysaver. Hosted by elderly socialite Vivian Van Vorst at Pine Point, her luxurious oceanfront estate, it's a swanky event where the grown-ups sip cocktails while their children search for eggs that are as likely to contain savings bonds as they are jelly beans. But when Lucy arrives with her three-year-old grandson, VV's normally welcoming gates are locked, and a man dressed as the Easter Bunny emerges only to drop dead moments later… Lucy discovers that the victim is Van Vorst Duff, VV's grandson, and soon learns that not all is as it seems at idyllic Pine Point, where the champagne and caviar seem to be running dry. Always a social butterfly, VV has been skipping lunch dates with friends, and her much-needed donations to local charities have stopped with no explanation. Maybe she's going senile, or maybe her heirs are getting a little too anxious to take over her estate… As Lucy gathers a basketful of suspects, she's convinced someone's been hunting for a lot more than eggs, and she'll have to chase the truth down a rabbit hole before the killer claims another victim…
Review
: This is the 19th book in the Lucy Stone cozy mystery series, and it's now the third book I've read featured the protagonist. This is obviously a suitable novel for the time of the year, which is a big reason I decided to read it. It's fun to read the holiday themed cozies around that actual holiday. Easter Bunny Murder was one that had a lot of possible suspects and honestly, I had no idea who it would be until right before the reveal.
This book is definitely full of suspense and dealt with a lot of different issues and mysteries. First you have VV who is possibly a victim of elder abuse. Then you have the death of her grandson, which is how the alleged abuse ends up getting out. What makes this a more thrilling read – and not in a gory, really scary way – is that Van isn't the only victim in this book. Instead of just one murder to puzzle out, Lucy has well…I'm not going to say. You'll just have to read it to find out! I liked how concerned Lucy was about VV, even though it's noted that some people might find her too rich and stingy to really care about. Lucy understands that VV wasn't the best person, but that doesn't mean she deserves to be treated harshly in her old age – especially not by relatives! It's definitely not always to be rich.
Another aspect of Easter Bunny Murder that I enjoyed is that it features a bit of a court case in the book. From the two previous Lucy Stone novels I've read the book always tends to wrap up soon after the culprit is revealed. This was a nice addition!
Between the two, I liked Easter Bunny Murder better than Bake Sale Murder, but I recommend these books regardless. They are quick, fun reads with a nice mystery!
Interested in reading? I'm an amazon affiliate- I get a small percent of any sale. Check out the print copy of Easter Bunny Murder or the e-book copy.