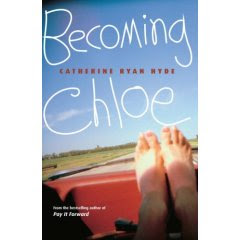 Becoming Chloe
By: Catherine Ryan Hyde
Review by: Lauren
www.myspace.com/catherineryanhyde
Jordy, a young gay teen, is living alone, finding shelter in an abandoned building, when he comes across a girl who is being raped. Once he finds a way to scare everyone off is when he first gets to meet this young lady named Wanda. She is rechristened Chloe, a name she likes far better, and the pair forms a bond that continues well past that night. Jordy finds himself sick, so Chloe sits outside the free clinic all night until they finally give her medicine, and Jordy protects Chloe in far greater ways as well.
As the story goes on, Chloe is sent to see a psychiatrist but can't get herself to swallow the medicine she is supposed to take. Jordy decides to use the truck he was given by an elderly man to take Chloe on a cross-country road trip to show her that the world really is a beautiful place. The two set off and it isn't long before Chloe begins to notice the wonderful things for herself, big and small, by yelling out, "Jordy! Right there!"
Becoming Chloe was a great novel that I feel teens and adults can enjoy equally. Here are two teens thrown together by horrible circumstances, and yet they find themselves able to notice the beauty and kindness in the world. By doing this for Chloe, Jordy is helping her in unimaginable ways, but he's also leading himself to a better life as well.
This novel is not very long, but it's packed with a lot of heart.