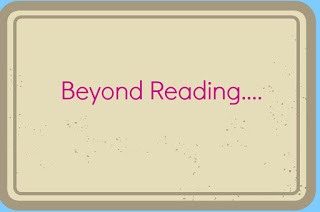 Beyond Reading is a feature where book bloggers/lovers show off what they like to do besides read! If you want to be featured, leave a comment or otherwise get in touch!
Hi all! I am Katrina, I have occasionally
blogged but right now most of my bookish thoughts are simply being spread over
the internet through my twitter @RinaReadsBooks
So when people ask me what I do in my spare
time I sometimes laugh at them. Between working part time in a care home for
people with intellectual disabilities and taking classes towards my Bachelor's
of Social Work I don't always have a lot of free time at all. However, when I
think back there have been two activities that have been a part of my life for
as long as I can remember. One of them is reading and seeing as this is a
feature called "Beyond Reading" I'm sure you can guess I am going to be talking
about the other one.
I started dancing when I was about two
years old, and right away through high school I continued to take classes in
ballet, tap, lyrical and musical theater. When I moved away for university at
17 it was hard to continue taking classes so I took a break. For three and a
half years I didn't have my dance outlet so I started looking for something to
fill the void. Finally I found a place that offered aerial classes including
hammock, hoop, and silks as well as pole dancing. I took an aerial hammock class and a pole dancing
class before trying aerial silks and absolutely falling in love with it.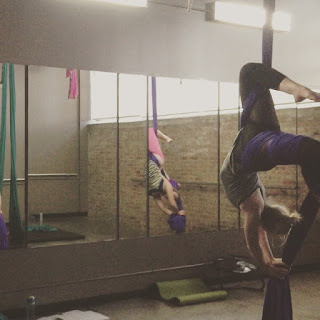 I still remember on the first day of class
my instructor looking at us and saying the first thing we were going to learn
was how to climb the silks. I also remember thinking she was absolutely crazy.
Still, I tried it and lo and behold I did it. Not right to the top that first
day, but it was something. Coming from a dance background so much of my power
and strength was in my legs so it was a workout to get my upper body
conditioned to be able to pull myself up.
I knew it would be hard to find a studio
that compared to where I danced growing up so finding something that satisfied
my dance itch felt amazing. Since starting nearly two years ago I have done
things I didn't think possible. I have been able to perform with my new studio
and made friends I never would have met outside of aerial silks. I have progressed through the beginner and
intermediate classes along with taking several conditioning classes, flexibility
classes and my absolute favourite, a choreography class.
This is a video from my very first student
showcase! I was pretty proud as I choreographed the entire thing on my own, and
it was the first thing I had ever done that for. I have done more things that I
like better since then, but I always like to go back and remember where I
started!
It
had also enabled me to keep in shape! I am horrible at following an exercise
plan on my own. Going to classes gave me that conditioning as well as the
slight motivation to condition on my own to hit moves I struggled with such as
working my abs to be able to control my aerial invert.
(I
worked for a solid 2 ½ hours one afternoon just to get this move down)
I think the biggest thing about why I love
aerial silks so much is it makes me happy. I always look forward to going to
classes, I want to go in for practice times and meet ups to learn as much as I
can. Sadly due to work I haven't been able to take a class since last August. I've just been practicing on my own, but I am so excited to get back to classes
again in the fall! One day I would love to teach, but for right now I need to
put my time into school!