Beyond Reading is where book bloggers share a post about a non-reading hobby of theirs! If you want to be featured, leave a comment!
****
Hi there! I'm Natasha from A Binding Attraction. Today I want to talk about my favorite hobbies outside of reading, which happen to be sewing and quilting. My first foray into sewing was via a 4H class when I was a kid. I tried to sew a skirt and I realized how utterly uncreative I was. I still don't feel like I'm that creative, but the great thing about sewing and quilting is that you just need to be able to follow directions!
My mom started working part time at a quilt shop a few years ago and she wanted me to start quilting as a way for us to have some bonding time. I fell in love with all the bolts of bright colorful fabric. Ladies would cart all of their supplies to the shop just to chat and sew all day. There were so many fun and beautiful projects that I just started collecting fabric in the hope that I'd learn how to make similar treasures one day. My parents ended up buying me a sewing machine for my birthday and I've been sewing like crazy ever since! I will say, I find it much easier to control the peddle now that I'm older and have been driving for years (it helps you realize how much pressure to use and it goes a lot smoother instead of stuttering halts).
It still took some time for me to sew a straight line, so I practiced on smaller projects. I have become a master of making coasters for all occasions. For people who quilt and have leftover scraps of batting, coasters are an excellent way to use those smaller pieces.
To make a coaster you will need:
1- 5×5 square of batting
3- 5×5 squares of your choice of fabric (fold 2 of the squares in half and press them)
3- 5×5 squares of a contrasting fabric (fold 2 of the squares in half and press them)
Thread
You will create a stack by placing one of you fabric squares face down, your batting on top, your contrasting square face up, then overlap your folded pieces with the open ends facing out to create the top square. After you have created your stack you will sew all the way around the square with ¼ inch seam. The last step is to just flip it inside out and voila! You have a coaster! You can trim the corners before flipping it inside out to remove some of the bulk, but it isn't required. Keep in mind that whichever fabric you put on the bottom of your stack will actually be on the inside once you flip it inside out.
I also love cooking, so one of my other favorite projects is making aprons. There are so many fun patterns, but I prefer a more retro look. Below are pictures of some of the aprons I have made for
friends and family.
Quilts are my bread and butter. There are so many ways to combine different fabrics to make beautiful designs. Here are a few that I've completed in the last year. I still consider myself a
beginner so I tend to choose easier patterns.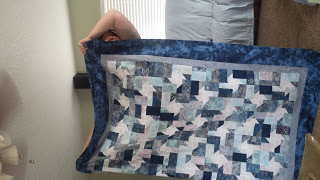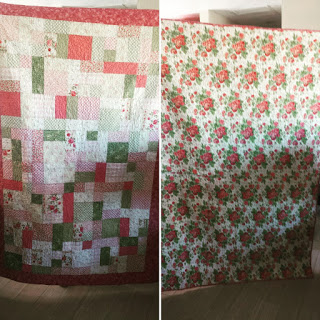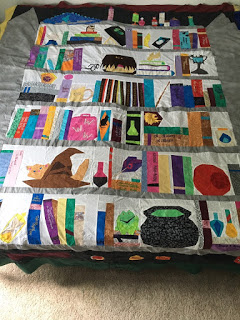 Lately I have come across some incredible quilt designs that are nothing shy of inspirational. Sondra at Sorcery In The Bookshelves has been working on a Harry Potter quilt known as The Project of Doom. I have been following her progress on Twitter (@RunYouCleverBoy)
This type of quilt uses a technique called paper piecing, which I have never tried before. I couldn't believe it when Sondra told me that she has only been quilting since August and this was her very first quilt! She said that she barely knew how to thread her machine when she started and that progressing through the patterns of varying difficulty helped her learn how to quilt. Sondra assured me that if she can do it, anyone can!
If you are interested in creating a fandom quilt or starting a Project of Doom, be sure to check out Fandom In Stitches for free patterns and tutorials.
Sewing and quilting are fun activities because they are relaxing and there is something satisfying about creating things with your own hands. They also provide an overwhelming sense of joy when you are able to share your projects and gift them to other people because there is nothing quite like a gift from the heart.
Do any of you sew? Show us some of your projects!