Leonard and Sheldon had to have the gadget from their favorite 1960's film, and nothing completes a geek collection like a time machine, right? What was your best online geek purchase? What are you still missing (besides The Big Bang Theory Seasons 1 & 2 on Blu-Ray) from your collection?
When it comes to buying things, I do have quite a bit of a geeky taste and I'm certainly a bit addicted to online shopping. However, I can't really think of anything that I've bought online that is sure to be seen as geeky. I'm a big Starkid fan (they are famous for the Harry Potter musicals) and I did buy their live DVD online, and that's a bit geeky for sure!
As for my next geeky purchase, I really love the site ThinkGeek and there are so many things that I want from this site. I definitely recommend checking them out. One such item would be these Sun and Moon jars–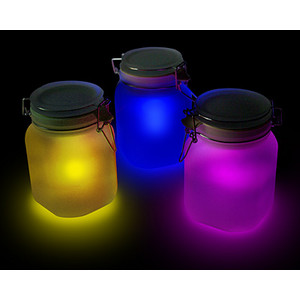 Aren't these adorable?! I want my own personal sun and/or moon. They would make a fun party addition!
You know what else you need for your party? THE BIG BANG THEORY!
The Big Bang Theory: The Complete First and Second Season on Blu-Ray Combo Pack
I have been hired by Warner Bros WBWord division to raise awareness for 'The Big Bang Theory.'