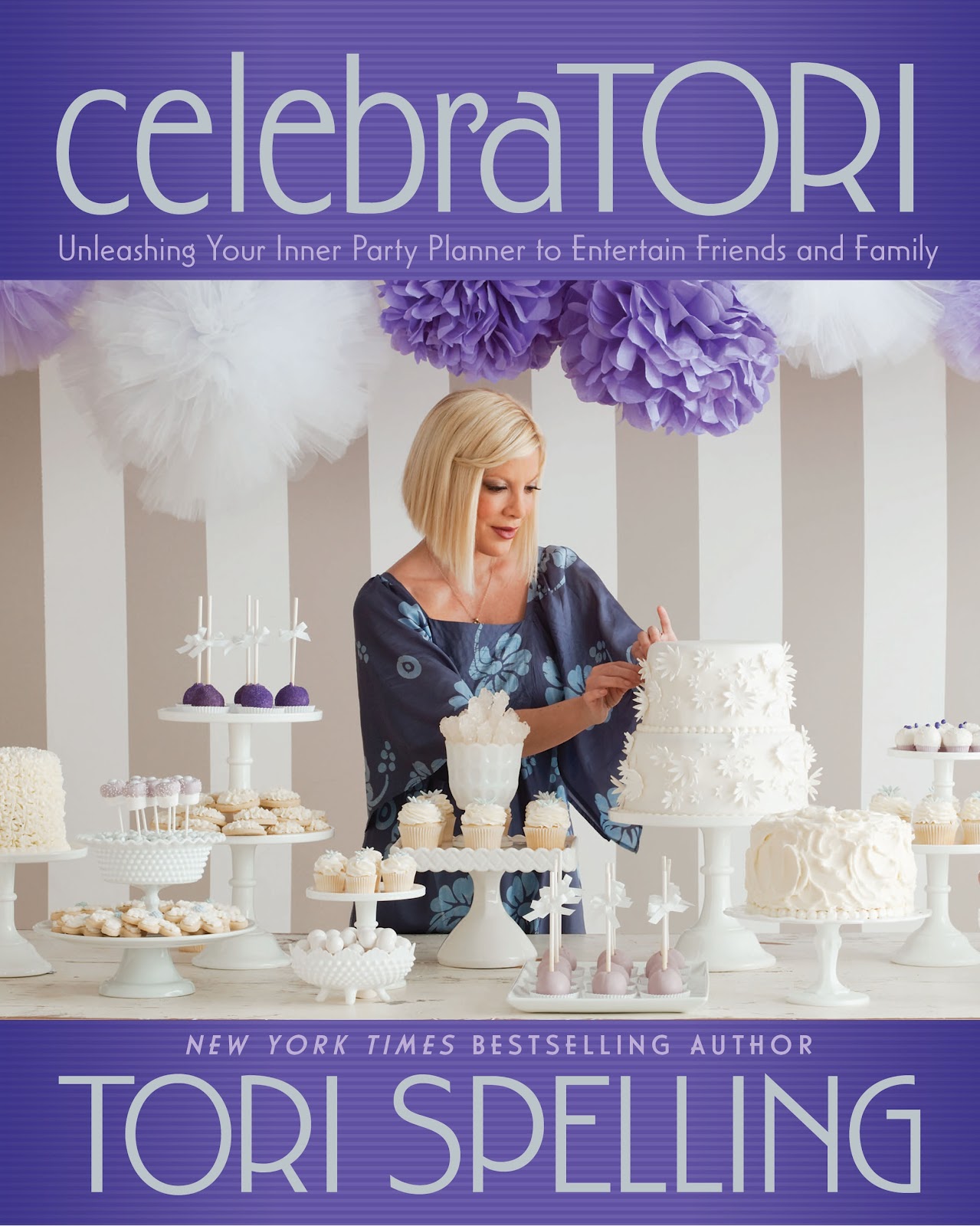 celebraTORI: Unleashing Your Inner Party Planner to Entertain Friends and Family by Tori Spelling


Review by Lauren


Source: Library, but all opinions are my own


Official Summary: In this delightfully entertaining, must-have party companion, Tori
shares all the tips and tricks she's learned from her most successful
soirees (and a few train wrecks). It's like having your own personal
party planner for a fraction of the cost!
celebraTORI is
not just instructional, it's inspirational. Hosting an event is not
about ticking to-dos off a list; it's about turning an organic idea into
a fun day you and your guests won't forget—so much so that you just
can't wait to do it again . . . with a different theme, of course. Tori
covers all the basics, from discovering new reasons to celebrate and
choosing a concept, to decorating, creating flower arrangements, making
refreshments, and building the corner-stone of any great party: the
dessert table! The best part is that all of her suggestions, including
her mouthwatering recipes, are 100 percent do-it-yourself.
Filled with lots and lots of great advice, handy blueprints, and hilarious anecdotes, celebraTORI will
be the most important guest at your next party. It's the perfect
foundation for taking life's special occasions up a notch . . . or five.

Review: Happy Birthday to me!!! In honor of that, I knew I had to share my review of this party planning book as I love to host parties. Plus, Tori Spelling is all about themes or "concepts" as she says, and so am I! I really appreciated the various tips and ideas that Tori shares in her book, as well as some of the "train wrecks" she has experienced planning parties all these years.
One of the things that Tori does not like are internet invitations, and I do agree that they aren't as fun or personable. However, with my friends, I tend to just invite them through an event on Facebook. It's the best way to get a hold of everyone, keep track of replies, and I can even add a fun cover that suits the theme. I do agree with Tori in terms of physical invites being best though, and if I could do that, I would. I liked her more extravagant invitation ideas where you offer a little gift that suits the theme of the party. This would be really cute for a kid's party if you weren't inviting too many people.
I really liked the various How-To posts on how to make decorations and food items for your parties. I'm all about finding new ideas, and decorations are certainly something I could do better with for future events.
The above photo shows you a How-To on making Lucite Mum Balls. These are too cute and they don't look extremely difficult to make! Tori is all about flowers for any party, and she has a section in the book that talks all about it. I think flowers can be nice at times, but they are definitely not something I plan into my budget for everything.
But speaking of budget! I love that Tori keeps a nice focus on budget and offers ways to get good items for cheap. It's easy to think of a celebrity party planner only getting high-end, expensive items, but Tori is different. She wants the best party for less, and I can really appreciate that. I've planned a lot of themed parties over the years and it can add up, especially if you have a large guest list.
DIY Spa Brunch
The end of the book includes full details on how to do your own themed parties. She includes ideas from Game Night to a DIY Spa Brunch. These are definitely two ideas I would love to put together, and there are other party examples as well to check out, so be sure to browse the book when you can!
Overall, I really liked this book and I read through the entire thing in only a couple days. I would love to get a copy for myself sometime soon to have on hand!