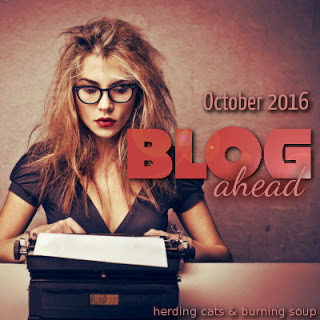 I really meant to do a Sunday Post today, with some various announcements, but I didn't have much time this weekend, with family in town. However, I keep meaning to say that I'll be doing Blog Ahead this October, so now is a good a time as any!
This is a blog event hosted by Herding Cats and Burning Soup and the idea is to spend October scheduling as many posts as you can during the month. I think the big goal is to schedule ahead 30 posts, so if you start the month with 2 blog posts scheduled, you'll add 30 and hopefully have 32 posts scheduled by the end of the month. I suppose you can schedule for October (which I will) but you can also try and get things scheduled out for November and December too so you have a bit of a cushion during the upcoming holiday months!
***
Chaotic Goddess Swaps has some great blog swaps throughout the year. I haven't done one in awhile, but I love Halloween so much that I couldn't pass this up!
Sign up for the Swapoween Hop now:
Swap is open to U.S. and Canadian bloggers only!
PACKAGE REQUIREMENTS
Halloween related goodies
At least 5 Items
Value of $20-$40
IMPORTANT DATES TO REMEMBER
Sign-Ups Start:

Monday, September 19th

Sign-Ups End:

Monday, September 26th

Parnters Assigned by:

Wednesday, September 28th

Packages Ship on/by:

Saturday, October 15th

Recap Linky Opens:

Wednesday, October 19th