Loop (Loop #1) by Karen Akins
Publisher: St. Martin's Griffin
Age Group: YA
My Copy: eGalley via NetGalley
Source: Publisher
Format: Hardcover, 336 pages
Release Date: 10/21/14
Review by: Alicia
At a school where Quantum Paradox 101 is a
required course and history field trips are literal, sixteen year-old time
traveler Bree Bennis excels…at screwing up.
After Bree botches
a solo midterm to the 21st century by accidentally taking a boy hostage (a
teensy snafu), she stands to lose her scholarship. But when Bree sneaks back to
talk the kid into keeping his yap shut, she doesn't go back far enough. The
boy, Finn, now three years older and hot as a solar flare, is convinced he's in
love with Bree, or rather, a future version of her that doesn't think he's a
complete pain in the arse. To make matters worse, she inadvertently transports
him back to the 23rd century with her.
Once home, Bree
discovers that a recent rash of accidents at her school are anything but
accidental. Someone is attacking time travelers. As Bree and her temporal
tagalong uncover seemingly unconnected clues—a broken bracelet, a missing data file,
the art heist of the millennium—that lead to the person responsible, she alone
has the knowledge to piece the puzzle together. Knowledge only one other person
has. Her future self.
But when those
closest to her become the next victims, Bree realizes the attacker is willing
to do anything to stop her. In the past, present, or future.
I have been wanting to read Loop ever since I heard it was about a time traveler who accidentally
brings a boy from the past into the future with her, and oh yeah, he's in love
with her future self. I mean, how does that not interest you? So yeah, I've
really been looking forward to Loop.
Luckily for me, Loop was even better
than I thought it would be.
The book starts off by literally throwing you into the
story. There is no slow start; it starts off with a bang. Because of that, I had
a little bit of a hard time getting into it, but once I got a little ways more
in, I was hooked. Bree has a lot of different slang and it was part of the
reason as to why I wasn't all that into Loop.
Once I got the hang of it, the slang was fine. Actually, the slang leaned on the
cute and funny side which I loved. All of the future technology, words, ect.
were also a little hard to follow at first, but once I was past the first
couple of chapters, I was able to understand it and had no more problems. Akins
does also explain everything, so you won't spend the entire book lost and
confused.
Loop had a lot of mysteries going on, as is the case with most
books dealing with time travel. I'm usually really good at figuring everything
out in books before the truths are revealed, but Loop stumped me. I think I only figured one or two things out, the
majority of the twists and revelations surprised me. I was a little suspicious
of the person who turned out to be the attacker, but even then I pretty much
dismissed them. Major props to Karen Akins for writing a book that will leave readers
guessing and unable to figure everything out.
And Finn. Their first meeting was the best. They didn't leave
the best first impression on each other, especially since Bree ended up "kidnapping"
him, which was absolutely hilarious. They spent a lot of time after that
bantering and bickering. I love reading about couples who banter, and Bree and
Finn's relationship definitely has that throughout the entire book. Their
relationship is too freaking cute. Honestly, they just had a lot of cute and
funny moments together. Finn is definitely a new book boyfriend. He's
confident, hot, not at all embarrassed by his nerdiness, protective of Bree,
but also knows that he needs to back down because she can do things herself,
and it's easy to see just how much he loves her. *happy sigh*
And Bree. Oh, Bree. You are fabulous. One of my favorite
heroines. She's snarky, fearless, willing to do whatever it takes, and very
easy to relate to. I had absolutely no problems about liking Bree. Her narrative
is easy to follow and enjoy. She is also funny and smart. I spent half of the
book laughing at the things she said or thought. Bree may be smart, but she
does have a few moments where she messes up. When those happened she owned up
to it and tried to come up with ways to fix it, even if it didn't turn out all
that right.
If you are looking for a book that is funny, cute, romantic,
fun and unputdownable pick Loop up! I
could go on and on, but this review is already getting long. Just get a copy of
Loop. Trust me.
The sequel, Twist,
will be out on March 31, 2015. You can bet I'll be counting down the days until
I can get it.
Cover Comments: I'm not a huge fan of kissing covers, but I
do like this one. Especially the background—it looks like a time vortex.
Overall: 5/5


---
Thank
you so much for having me on your blog today to celebrate the release of LOOP!
1. What was your favorite scene to
write?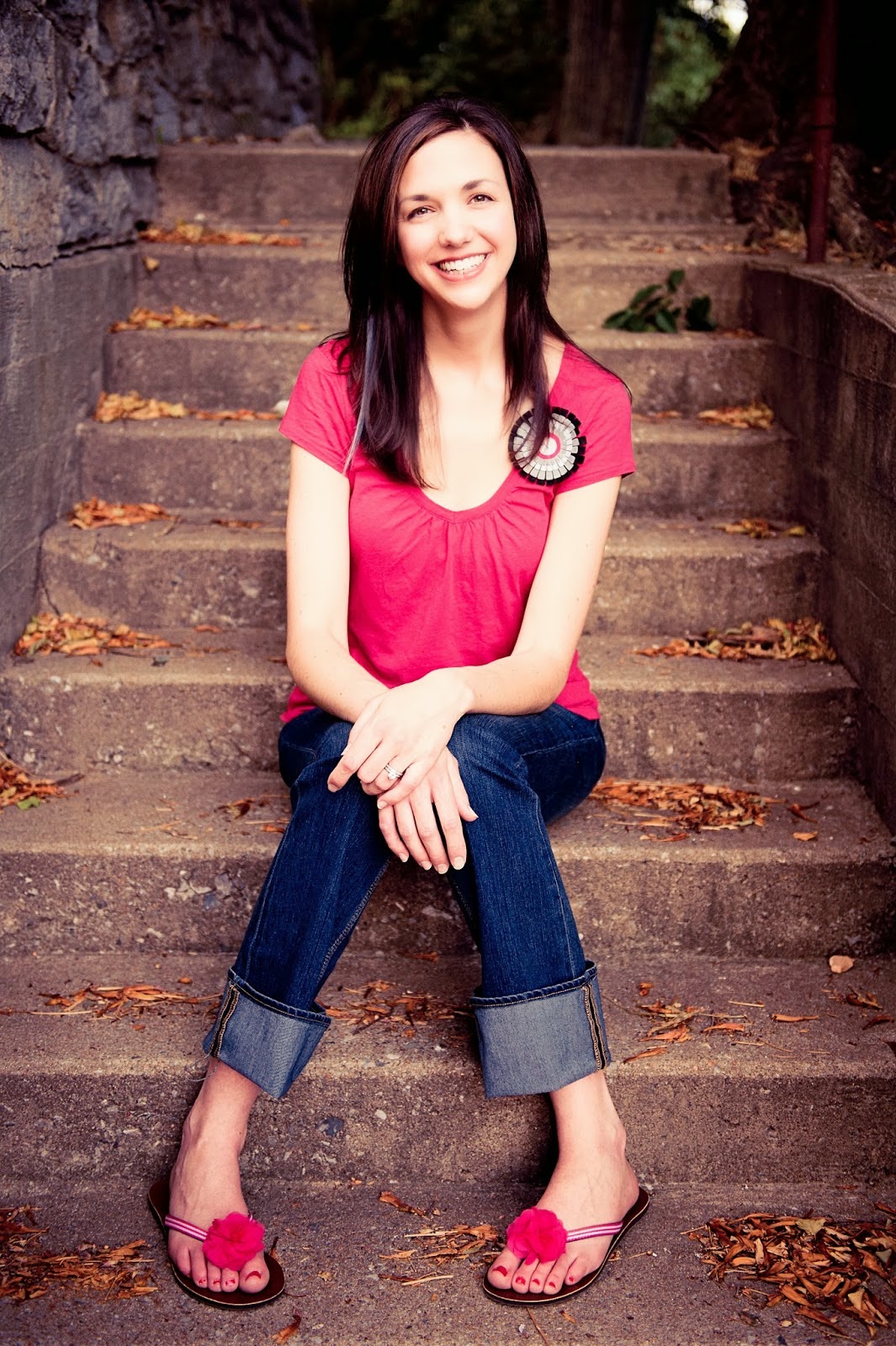 Ooh. This is a hard one. There's one
particular scene where Bree and Finn are trapped together in a small vehicle
from the future called a Pod, and it was fun to write because they're packed in
there so tightly that I was hyperaware of all their body movements. I could
just feel their awareness of each
other as I wrote it out. And it's a scene were she starts to open up to him, so
it gives that extra dose of closeness.
2. If it was possible to time
travel, would you?
Part of me would want to go back to my own past and observe
special moments (like my wedding or my sons' births), but at the same time, I
wouldn't want to ruin them. Everyone tells me how happy I looked on my wedding
day—that I didn't stop smiling the entire time—but I think I'd be picking apart
details. For instance, my husband surprised me for our ten-year anniversary
last week with a slideshow of our wedding pics, and I noticed that my shoes
looked weird from a certain angle.
So now, even though I know there's
almost no chance that people were staring at my shoes that day, I will always
wonder.
3. Do you have any favorite time
travel books, movies, and tv shows?
Oh. My. Word. You have opened up
the floodgates. I LOVE time travel. I love to pick it apart and find loopholes
in it. I think that's part of the fun.
My all-time favorite time travel
is Back To The Future. It's actually the first movie that I remember
seeing in the theaters. (And little spoiler alert: There's a scene paying
homage to it in TWIST.) My husband and I have heated discussions about whether
II or III is superior (II, obviously).
In recent years, I really enjoyed X-Men:
Days of Future Past. I thought the way they tied the present together with
the changing past was brilliant. Looper held my attention, but dang it
was gruesome.
In books, I've actually avoided
reading time travel while I've been writing LOOP. There are already so many
similar themes in the sub-genre. I didn't want to be overly influenced by other
authors. And let me tell you, it has been hard. Once I finish my final polishes
on TWIST, I'm going to have a total time travel binge. I'm looking at you,
Julie Cross, Myra McEntire, and Cristin Terrill.
J
4. What are some of your favorite
books and which books are you looking forward to?
Well, I mentioned the impending
time travel binge.
All-time favorites are Harry
Potter, everything by Jane Austen, The Hunger Games series, Anne
of Green Gables, To Kill a Mockingbird, Tuck Everlasting, and
From the Mixed-Up Files of Mrs. Basil E. Frankweiler. In recent years, I
really liked The Chosen One by Carol Lynch Williams, The Wicked and
the Just by J. Anderson Coats, The Mediator series by Meg Cabot, and
the Across the Universe series by Beth Revis. I haven't had a chance yet
to read Beth's book The Body Electric, so I'm looking forward to that.
I'm also looking forward to a few of my crit partners' books. None of the
Above by I.W. Gregorio is coming out at the end of April, and I can't wait.
I got to read an early version, and it's fabulous. Kimberly Loth's sequel in
her Kissed series is coming out soon, and she very cruelly hasn't let me
read any of it yet. I'm looking forward to that one, too.
5. What are you working on now?
At this moment, I'm waiting on copy edits for TWIST. I'm also
finishing up revisions on a Middle Grade story that's been percolating in my
head for quite awhile. And then, there's a shiny new idea brewing that I can't
talk about just yet.