If you've been following my blog for awhile now, you may have noticed some posts about the movie Ask Me Anything, which is based off the novel Undiscovered Gyrl by Allison Burnett. What's even cooler than a book-made-movie is that Allison himself put the film together, so you know it's the way he would have wanted things (kind of like The Perks of Being a Wallflower book/film). Anyway, Undiscovered Gyrl now has a novella sequel out called Another Girl and I'm trying to helping Allison spread the word.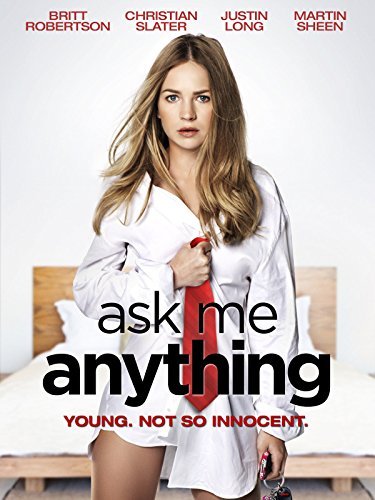 If you want to read Another Girl, either read Undiscovered Gyrl or see the film (they both give you the information you need and Ask Me Anything is available now on Netflix for free!) Once you've done that, you just need to grab a copy of Another Girl.
I've spent the last week sharing this information (and more) with various bloggers via email. However, I wanted to post about it here in hopes that more people will see this and want to help out. Also, be sure to check your blog emails if you think I may have written you already!
The idea behind Another Girl is essentially online friendships. The novella is more suspense and mystery than a lot of the online bloggy friendships we all have, but to go with that basic theme, I wanted to see if bloggers would help me out with promoting this book by doing the following-
1. Post something on your blog (this would make a great discussion post, I think) about online and blog friendships. Do you have any? What has your experience been like? Any particular bloggers you are close to and want to make a shout out? It's essentially up to you – anything on online friendships is a go!
2. Along with this post, please post something about Another Girl. You can say you haven't read the books or seen the film (be honest and open to your blog readers) but do let them know you are writing about this topic because of the book. The little amount Allison and I would love to see about Another Girl is that you post the cover and a link to Amazon so people can check it out. You can post links to Ask Me Anything, Undiscovered Gyrl, write more, etc., but you only need to do that little amount along with this post!
Now, I know bloggers are busy and maybe you want to help but don't have time to make a whole post. You can still post about the novella in a weekly round up or some other general post that you may post on your blog!
Thank you so much for reading this and I appreciate all of you! Please get in touch if you would like to help in some way or you have already gone ahead and posted something. You can email me at: lauren51990 AT aol DOT com