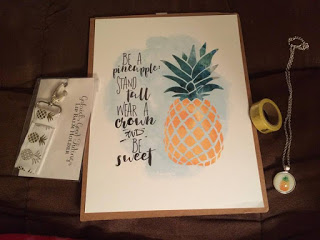 August is my blogoversary month and I'm celebrating 9 years blogging! Can you believe it? 9 years! It's so strange to me, but I love blogging and I can't see myself stopping anytime soon…even if I have to slow down in the future! I don't normally celebrate my blogoversary month, though I'm not sure why. I suppose the month just sneaks up on me and I find I didn't do anything. However, I want to do something this year and that's TWO giveaways! The first is today and the next one will be soon – perfect for all you readers!
Today, though, I'm sharing some fun Pineapple-Themed items. I do like pineapples, when it comes to eating fruit, but they also remind me of my favorite TV show Psych. If you've seen the show, then you understand. At any rate, pineapples are really popular lately so I've been collecting a few items for the past few months to make one overall giveaway.
-Lauren
Now, the items:
1. Pineapple decorated lip balm holder key chain
2. Pineapple art print with a fun quote/saying
3. Pineapple decorated washi tape
4. Pineapple adorned necklace
While my blogoversary is this month, the giveaway won't end until Monday, September 12 because I'll be in London in the beginning of September and won't be able to mail the prize pack until I'm home again. Lots of time to enter!
Open To: U.S. and Canada (I wish I could do International, but I'm afraid I don't have the funds right now – feel free to enter if you are willing to pay shipping though!)
To enter, use the Rafflecopter below! Each entry has different points (1 for commenting, 2 for Twitter follow, etc.) so be sure to enter however many ways you can!
I also wanted to make sure that you all knew about the giveaway going on at the Leave a Mark Auctions blog. Be sure to follow for future auctions AND giveaways to say thanks for the support! If you are in the U.S., you can enter this current giveaway to win a Harry Potter solar light!!!