As many of you already know, August is my Blogoversary month and I have been blogging for the past 9 years. I wanted to celebrate with a couple of different giveaways. You can find my first giveaway in the top left hand corner of the blog. There is also a couple more days to enter the HP Solar Light giveaway on Leave a Mark Auctions – link in the upper right hand corner.
NOW, though, I'm happy to offer up a fun reader's tote bag that was donated by the wonderful TrishaJenn from trishajennreads – go follow her!
Most of the entries for this giveaway involve you following TrishaJenn in some way in honor of her donating this tote bag for giveaway. Please do follow in as many ways as you can/want!
Open To: U.S. only, I'm afraid (unless you want to pay shipping!)
Closes: Friday, September 16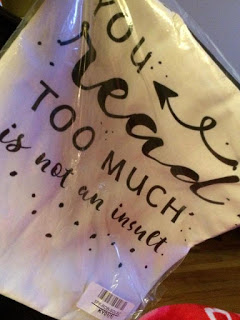 "You Read Too Much Is Not an Insult" – when offered to choose what I wanted to give away, I immediately loved this phrase and then TrishaJenn even let me choose the item, so I went with a tote because I think most of us love these and could always use more. I wish I could enter!