Eleven years ago, my mom had a kidney transplant and almost every year since, my sister and I have done something special for my mom for her anniversary (October 6th). This year, we all went to The BonBonerie, a bakery and cafe in Cincinnati, Ohio, to have their afternoon tea. We went on Saturday, October 7th at 11 a.m. The other tea time is 2 p.m. but I think 11 was a good idea – it started to fill up more by the time we were finished – around 12 p.m. Our tea only took about an hour, but if you were chatting/catching up with someone, it could easily go longer!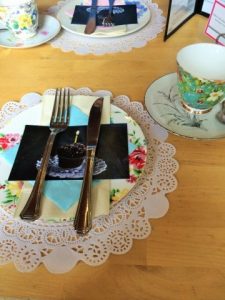 When we arrived, this was the place setting we each had: plate, teacup and saucer, knife and fork, and a postcard with a fun cupcake on it. I think I know who I'll be sending a note too! I thought this was a really cute set up and it immediately made you excited for the tea. An adult tea is $25 and this includes all of the food, a beverage, tax and gratuity. Isn't that awesome? It's nice to know your full price going in – including tip! My sister is the tea drinker so she got that, but my mom and I stuck with water and diet coke. My mom did try my sister's tea and loved it though, so I'm sure she'd get that again. I'm one of those crazy people that don't like warm drinks.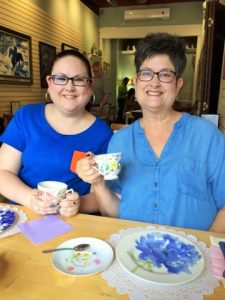 I do, however, love the food aspect of afternoon tea! We got a three-tiered tray loaded with goodies, so there is no waiting for each section. The top had things like cucumber sandwiches and egg salad, the middle was all the sweets from macaroons to cookies, and the bottom was bread, fruit, scones, and quiche. We ate the top first, then the bottom, and finally we tackled the middle and all those yummy sweets! You can, of course, eat your food however you like!
We all thought the food was lovely. My mom was a big fan of the sandwiches. She could easily go back and just eat those. Being a sweets person, I was all about that middle tier. I did really love the cucumber sandwiches and quiches too though! Most of the items had a piece for everyone, but for things like the scones and macaroons, we decided to split so everyone could get a taste. One of the macaroons was a chocolate peanut butter flavor and oh my goodness, melt in your mouth good!
This was such a fun experience! My sister and I had afternoon tea in London, and my mom and aunt had their own tea there too, so I knew if I could find a Cincinnati based tea, that it would be a great idea. It didn't take long to come across The BonBonerie – I know of their baked goods, but I didn't realize they did tea – and I knew it was the perfect place to go! It was such a cute little cafe. I loved that you got all of the food at once so you could eat at your own pace. We also had to visit the actual bakery attached after we ate!
If you live in or around Cincinnati, Ohio, I highly recommend The BonBonerie Afternoon Tea. You are sure to love it; it would make a great girl's day out! This is definitely something I will do again in the future. At our tea, my mom was already talking about how her own mother would love it and it might be somewhere we bring her the next time she's in town. Of course, your own city might have afternoon tea, so do a little online search and find out! It's a fun experience.
The BonBonerie Afternoon Tea review - #ontheblog #cincinnati
Click To Tweet
Let me know: Have you ever done afternoon tea? Would you?
linking up: