Book Roo: A Book Subscription Box for Kids
Review by Lauren
source: box from company; all opinions are my own
Review: I was recently given the opportunity to check out another box from Book Roo, a book subscription company specifically for kids. You can either choose the board books (you'll get 3) or the picture books (you'll get 2). I went with the picture books because I knew I'd eventually be able to share these with my eldest niece and nephew, who are six and five. The boxes are $22.99 per month, but the price goes down if you sign up for a recurring subscription (3, 6, and 12 month options).
Book Roo: A Book Subscription Box for Kids! #subscriptionbox #bookreview
Click To Tweet
One of the things that I absolutely love about Book Roo is that the books come wrapped! Isn't that such a fun way to get books in the mail? I know my niece and nephew would love having something to unwrap every month. Along with the wrapped books you get a brochure that shares a little information about each book, giving you a taste of what to expect before diving in!
Book Roo is a great company that really wants to make sure families are happy with what they are getting. If you happen to get a book that you already own, take a picture of you giving the book to someone else and you'll get $5 off your next subscription. You can also contact Book Roo if you have kids in differing age groups and they will happily alternate which box you get every month (back and forth between the board books and the picture books).
I hadn't heard of either picture book I received in the box, which was exciting! I love discovering new books. The first was Mamasaurus by Stephan Lomp (Goodreads link). This is such a sweet book about a baby dinosaur who is asking various dinosaurs if they have seen his mama. Of course, his mama is right there looking for him in the end! The illustrations are simple, but bright. Definitely a cute read!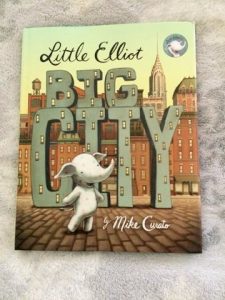 While I liked both books, Little Elliot, Big City by Mike Curato is probably my favorite of the two (Goodreads link). This is such a cute book about not fitting in, and then finding someone just perfect for you. Elliot is a little elephant who loves the big city but he often feels like he's not being noticed…until he meets someone even smaller than him, and they learn they can help each other. There were such cute, whimsical illustrations, and it's a book that should definitely be added to a kid's bookshelf.
I definitely cannot complain about either of these books, and Book Roo as a whole. It's a really fun subscription service that provides an exciting way to get kids into reading!