I just adore subscription boxes. I always see the book ones around, but there are all sorts of other options. I found out about Bookmark My Heart from Etsy and I'm so glad I did because her new (January is the first month) subscription boxes are really fun and unique. Be aware though  – each month there is only 10 boxes available!
Before I start going on and on about the boxes and what's inside them, I'm going to let the owner of the shop fill you in on herself and her Etsy shop/subscription boxes:
About: My name is Esha (pronounced Ace-a), I am a full time mom that has always found solace in my books. For as long as I can remember, I have always been a lover of reading and bookmarks. I have never been a collector of things, but bookmarks have been a constant in my life. I have various kinds and it was not until I joined the bookstagram community and saw that others loved bookmarks as well that I decided to give Etsy a shot. I could not have foreseen the love that I have gotten thus far for my art. It makes me happy that my customers are happy with their purchases and it drives me to create more!
As a new small business I decided to create my monthly box as a way to highlight themes and give my customers a fun way of getting multiple pieces from my shop for half the price it would usually cost them. It is because of this that I have also decided to highlight other small businesses in my box. There are some great little shops out there that do not get much notice. Including them in my box is just a little way of expanding their reach. I of course will also feature some of my personal favorite shops at times. I can only hope that my customers enjoy opening up their packages as much as I have enjoyed putting them together. All of my hand painted pieces are made with care and are unique to each order. I am not a robot, so there are slight variations in each individual hand painted bookmark. I also offer a cheaper alternative for character bookmarks. Printed bookmarks are printed on 110lb cardstock (business card grade). This option is not available for quotes and non-character bookmarks as they are already priced at a low rate. Customization is offered for all hand painted products. Names may be added, colors can be changed, and full custom orders are also available for non-listed items.
For customizations on listed products, customers are asked to view the details section for that listing. If an alteration is requested, I only ask that customers let me know what they wish for in the 'note to seller' at check out. For example: I have a #bookstagram bookmark listed. This can be changed to any color and/or any hashtag that the person so chooses. It does not have to be a hashtag either, it can simply be a name or a username. The only limit to the customization is my imagination. I must note that I have a few regulars already and I love working on custom orders with them and coming up with their vision. This is makes it all worth it for me.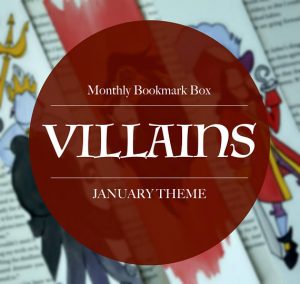 About Bookmark My Heart Boxes: Monthly boxes cost $23.00, excluding Exclusive boxes (i.e more on this to come, so keep an eye out!), because of the extra items and packaging for that box, the price will be $25.50. Shipping within the US is $4 regularly and Shipping for Exclusive boxes are $6. International shipping depends on the country, Etsy provides an estimate. Boxes ship off in the 2nd or 3rd week of the month and there are 10 boxes available each month.
*
*
*
Since there are such a limit on the boxes available, you definitely want to follow the shop and Esha to keep up to date on future boxes.
*
*
*
Ways to Follow:
*
*
*
January and February Boxes:
According to Etsy, the January and February boxes are sold out – but you
can
still buy the January sleeve. Just visit this
link
.
Going backwards, the February theme is Simply Meant to Be and includes:
• 4 bookmarks
– 2 Hand Painted Characters
– 2 Quotes• 1 Booksleeve
• 1 EXCLUSIVE ITEM – TEA
• 1 item featured from another Etsy Shop
The January theme was Villains, which I love! Rachel Corson (follow her on
Instagram
) has allowed us to use her reveal photo for the January box, so thank you Rachel!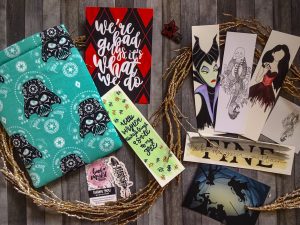 Doesn't all of that look amazing? I love the idea of a villains theme! Now, this next photo is the January spoiler card (explaining what all the items are):
Finally, if you are interested in something from
Bookmark My Heart
, you can find a 10% off code on the Instagram page of all three of Esha's reps!
They are—
*
*
So tell me, what would you choose from the shop? A subscription box, or something more specific?
I'd also like to clarify that this isn't a monthly subscription in the sense that you are automatically signed up every month. Instead, everyone gets a fair shot each month to get a box (since there is a limited quantity). Therefore, you can buy one month only if you like the theme!