Books by the Banks 
Books by the Banks is a book festival held in Cincinnati, Ohio. Last year was the 11th year and I'm really glad I was able to attend again. It took place on Saturday, October 28, 2017 and the day included many author and writing panels, as well as fun events and activities in both the kid and teen rooms. Along with this, there is an entire room setup with tables where authors sit with their books so you can walk around, ask questions, and get books autographed. Once you've gotten all the books you want, there is an area to purchase (a local bookstore Joseph-Beth Booksellers sells all the books). There wasn't any huge authors I was interested in this year, but there have been some great ones in the past like Rainbow Rowell, Maggie Stiefvater, and Augusten Burroughs (I got to listen to his panel the year he came and it was wonderful).Regardless, I was excited to go and check out some of the panels because it's fun to hear directly from the authors. There is someone who moderates and they ask questions in the beginning and then they take some from the audience.
First Panel at Books by the Banks
The first panel I went to was New Young Adult Fiction and it included the following authors: Emily Henry, Erin McCahan, Natalie Richards. The panel said Lauren Oliver would be there, and she had a spot to sit and everything, but I missed the very beginning so I'm not sure if they gave a reason for her absence or not. I'm pretty sure she had her own panel later though. Anyway, it was a lot of fun hearing from Emily, Erin, and Natalie. Natalie was especially amusing to listen to. I wish I had a play-by-play of the things they talked about, but sadly, I do not, so we'll see what I can remember-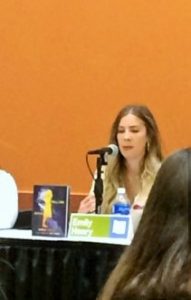 *None of them really outline when it comes to their books
*Erin mentioned that she had to learn not to read reviews on Goodreads because they can be really mean
*Emily talks about how taking a day off from writing – even if all you do is sit around and watch Netflix – is part of the job. You're still a writer even if you don't do it everyday.
*When asked about the age range for their books, they all said they get letters from middle schoolers all the way through older adults but they all seemed to agree that if the reader is younger, they should be a mature young. However, Natalie said that while she does write mysteries/suspense type of books they aren't full of gore.
*Emily's current WIP is the first book she sold on proposal – which means it wasn't something she'd already had written. She sold the idea.
*Natalie says she doesn't base characters around anyone she knows. Emily said that her main characters tend to start out as version of herself and then they grow from there.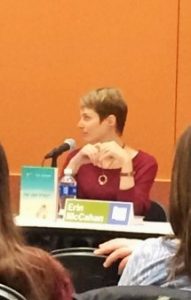 Books by the Banks: Cincinnati's book festival is on October 20, so let's look back at last year's event #ontheblog #bookbloggers #booksbythebanks
Click To Tweet
Second Panel at Books by the Banks
The second panel I saw was Thrillers and Suspense: New Fiction and the authors included were David Bell, Kristen Lepionka, Catherine McKenzie, and Jessica Strawser. I'd heard Catherine and David speak before, but Kristen and Jessica were new this year so it was a nice well-rounded panel. I really love thrillers and suspense novels so it's always fun to hear from these type of authors. I'm definitely excited to read Kristen's book, which is the first in a series. It just sounds great!
*All the authors – minus Catherine- live in Kentucky or Ohio. However, Catherine has a book set in Ohio because she loves the area (she lives in Canada).
*Kristen's main character is named Roxanne and she got that from author Roxanne Gay.
*David joked about having a character named Tracey in one of his books who was a stripper, and two Tracey's he knew were all "thanks for naming the stripper after me." They all talked about naming characters and worrying about using a name of someone they know, but it happens!
*Kristen talked about querying an older project and getting feedback like "You write really well, but this has no plot."
I always wish I had more money when I attend Books by the Banks because I want to support all the authors whose books sound amazing. Alas, I only got two books this year but I had both of them autographed so that's fun. I got We All Fall Down by Natalie D. Richards. I read her book One Was Lost last year and loved it, so I'm excited to check this one out. The other book I got was Death by Eggnog by Alex Erickson. This book is part of a cozy mystery series, though it's not the first. I really wanted the Christmas one though since the holiday was approaching at the time so I asked the author if they could be read out of order. He said there are characters/relationships throughout all the books, but overall, you could read it on its own. I decided to go with it and grabbed the Christmas book. Hopefully I can read it soon, and if I like it, I'm sure I'll go back and start from the beginning! I do love a good cozy mystery.
See You This Year at Books by the Banks!
All in all, this was another fun year at Books by the Banks. So many of the authors are from Kentucky and Ohio so it's nice to support some local talent. I can't wait to see what the 12th year of Books by the Banks brings (Saturday, October 20, 2018)! According to their website, Jason Reynolds should be there, and I'm excited about that!!