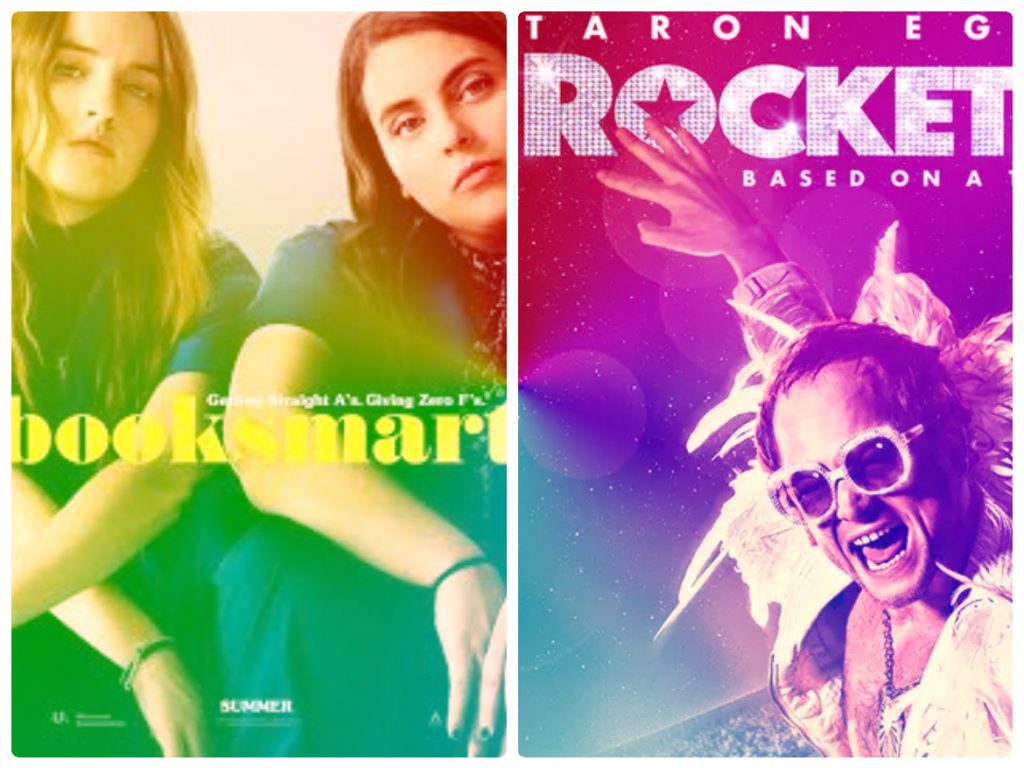 Due to early access screenings, I was able to see both Booksmart and Rocketman this past weekend before commercial release. Booksmart comes out on Friday, May 24 and Rocketman will be released on Friday, May 31. I'm going to share some brief thoughts today on the movies…but really, I highly recommend seeing both!
Early Movie Reviews: Booksmart (out 5/24) and Rocketman (out 5/31). Both movies are highly recommended! Learn more #ontheblog #booksmart #rocketman
Click To Tweet
Booksmart: A Movie Review
Booksmart is directed by Olivia Wilde and co-star amazing actresses, Kaitlyn Dever and Beanie Feldstein. These two best friends have worked hard all four years of high school to get into a great college and set themselves up for success…but the night before graduation, they realize that their classmates had fun and got into good colleges, so the girls are ready for at least one wild, high school night.
I loved the friendship between Amy and Molly, and it was a lot of fun seeing them try and let loose. There is a lot of humor, but it's also full of heart and moments where Amy and Molly realize they didn't quite know their classmates as well as they thought they did. This movie is rated R, but it's mostly for language, which felt realistic for teens.
I also have to mention that Amy is a lesbian but she's never been with a girl, so part of their evening is meant to give her a chance to really talk to her crush. I love that Amy likes girls, and it's not a big deal. This isn't a coming-out movie…at least not in terms of sexuality. It's more "coming out of your shell", and "coming out of your high school roles." I really loved this movie, as did my sister and friend, who went with me!
Rocketman: A Movie Review
I was so excited when I heard about Rocketman, and I'm really glad I was able to see the movie two weeks early. Not only is it about Elton John – who is amazing – but Elton is played by Taron Egerton, an actor I think is just fantastic.  This will probably be compared to last year's Bohemian Rhapsody, about Queen's Freddie Mercury, and there are similarities but it's very different too. Elton is the one telling his story, going back and forth between him in group therapy and his rise to fame. Like a musical, some of the songs are simply sung as part of the movie (and not just by Elton, but sometimes the other cast members too)…while others are part of an actual performance. There's some fantastical moments, but it works. After all, the movie is about the fantastical Elton John.
I didn't know a lot about Elton's backstory, so it was great learning more about the man behind the flamboyant costumes. I think Taron did an amazing job. It's crazy how much he looks like a young Elton. Plus, he's a really good singer in his own right- and yes, he is the one singing the songs throughout the movie. That's not Elton.
Rocketman was a great movie, and I will admit to crying at a scene near the end of the film. There are some definite heartbreaking moments in the movie, but it just makes it that much more enjoyable for me. This movie is also rated R, and again, it's mostly for language, though also drug use and sexuality. I saw this with my mom and sister and we all loved it.
It's real. It's rough. It's rock 'n roll. 
It's Rocketman.
In Conclusion…
Booksmart and Rocketman were both movies that I was highly anticipating seeing in theaters, and I'm so glad I was able to (and early as well!). I really loved both of them, and they are definitely ones that I would see again. Highly recommended!