Breaking the Devil's Heart by H.A. Goodman is available as an e-book for your Kindle and it's doing a fantastic job lately in sales! I'm so proud of this book. I read and reviewed it over the summer and loved it so much, the author is now one of my clients for Shooting Stars Promotion. If you haven't checked out this book yet, please give it a chance!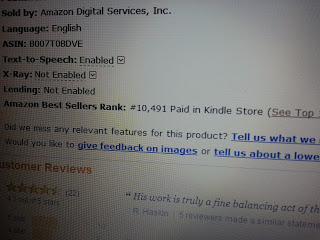 You can see how well the e-book is doing in the photo above! Definitely think about buying a copy today (and you can buy a physical version of the book too!)
A friend of mine bought the e-book recently (he wanted suggestions for books and I gave him this one) and he was really enjoying it the last I heard! This is a guy who loved Harry Potter and The Hunger Games and I figured Breaking the Devil's Heart would be a fine transition for him…it has some romance, but not graphic, and it's full of action and fantasy, among much much more!