The Rabbit Back Literature Society by Pasi Ilmari Jaaskelainen


Review by Lauren


source: copy from library; all opinions are my own


Official Summary: Only very special people are chosen by children's author Laura White to join 'The Society', an elite group of writers in the small town of Rabbit Back. Now a tenth member has been selected: Ella, literature teacher and possessor of beautifully curving lips. But soon Ella discovers that the Society is not what it seems. What is its mysterious ritual, 'The Game'? What explains the strange disappearance that occurs at Laura's winter party, in a whirlwind of snow? Why are the words inside books starting to rearrange themselves? Was there once another tenth member, before her? Slowly, disturbing secrets that had been buried come to light…
Review: This book is really not one you can explain. It's something you just have to dive into and see what you think. It's also not a good book to rate, per se, because it's a weird novel. Weird things happen, weird characters do weird things. Yeah, weird. That doesn't mean it was bad though. It was definitely well-written and inventive. It kept me reading because I very much wanted answers and to know what was happening with this literature society, especially the creator, Laura White.
I'll say right now though that you will be left with some questions. The author answers some things, but this isn't a book that completely wraps up with a nice little bow. I suppose it wouldn't work well if it had been though. A friend of mine saw that I was reading this one and she sad it was "weird, but good." I know, I know, I'm using the word weird a lot and not really explaining things. But to be honest, if you want to read this book, the less you know, the better! I feel like this might have worked better for me as a film. It just seems like certain things would have translated better – then again, this is an English translation of a Finnish novel, so who knows if that changed the novel at all? I still think the book is meant to be fantastical though. It's not completely contemporary, as it does deal with some supernatural or fantasy elements. Some of these things aren't given meaning, like I mentioned before, but it does add a layer to the overall story.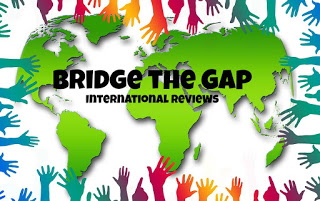 This book is written by Pasi Ilmari Jaaskelainen who lives in Finland, making this is a Bridge the Gap book (an author who lives in a country other than your own). Feel free to use this button and link back to my blog if you read a Bridge the Gap book!