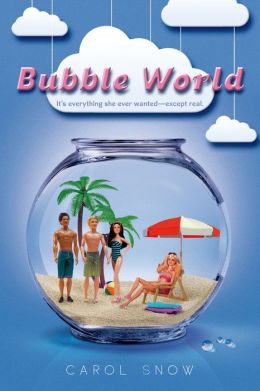 Bubble World by Carol Snow

Review by Lauren

Released Today – get a copy now!

copy sent for review, but all opinions are my own

Official Summary: Freesia Summers lives on the island of Agalinas, a hidden Pacific paradise somewhere off the coast of California. She has everything a girl could want: her own ocean-view balcony, a pink itty car, singing peacocks, and a magical bubble that lets her talk to her besties and keep track of her de-vicious clothes.
If Freesia's life seems too good to be true, well, there's a reason for that. And when a blackout lands her in an unbeautiful place — and in an equally unbeautiful but oddly familiar body — reality hits her head-on. Freesia is not who she thought she was, and her world will never be the same. Reality, in her opinion, is hugely overrated.

Review: I was certainly intrigued by the summary when I was first offered to review this book, but I was a bit worried that it would be too much of a cutesy novel for my tastes. While that can be good for the lovely summer weather, it doesn't always work for me. However, I found that once I got into the story, I really enjoyed it.
Freesia thinks she's a typical girl who just happens to live on a great island. She has awesome friends, a loving family, and totally awesome clothes! Things are definitely not what they appear though and since I don't want to give away too much (it really is more exciting to learn for yourself), I'll just say that Freesia has a lot more to learn about the "real world."
I definitely thought the beginning was a bit slower than the rest of the novel, but that's mainly because it's about Freesia's life and introducing readers to the perfect island. This is important, of course, as where Freesia lives holds the secrets of this story. Regardless, it picks up more as we get into the blackouts and Freesia beginning to question things. This doesn't take too long either so you should certainly push forward to this point to see if Bubble World is the fit for you!
In the end, I did enjoy this book and I thought it had a very unique concept!
Interview with Carol Snow
1. Bubble World has a very intriguing summary. Can you tell us what genre(s) you would place the book under without giving anything away?

Kirkus Reviews called it "a nifty sci-fi comedy," so I'm going with that. (It's important to include the "nifty.")
2.

Is Bubble World meant to take place far in the future, and how much of the "world" did you have to create?
The story happens in a slightly altered version of the present day. As for the magical island of Agalinas, which is the setting for much of the story, I based the geography on Catalina Island, which is off the coast of Southern California (and one of my favorite places). For island attractions, I called on my inner fifteen-year-old to envision a teen utopia.
3 3. Freesia is a very interesting name. It certainly seems to represent all things summery. Was that your ultimate goal when picking the name? Were there other name ideas before Freesia?
I wanted something unusual but not too weird, and a flower name seemed appropriate for a girl who is all about looking and feeling pretty. Usually I rely on baby name books to help me name characters, but this time "Freesia" popped into my head, and I went with it.
4. If you could make a soundtrack for the novel (songs that fit the world/characters/scenes), what would you include?
I've been waiting years for someone to ask me this question! I've created a playlist on Spotify:
Bubbleworld
I listened to and refined this playlist all the time while I was writing the book. It really helped me envision Freesia's world … though let's just say that my family is pretty much done with reggae and ukeles.