I was contacted by BuildASign about doing a review, and when I browsed the site and found the perfect item to get, I could not refuse!
Review by Lauren – product sent free of charge, but all opinions are my own
Review: The item I chose to review was a customized street sign. I clicked on signs, then street signs, and finally reflective signs until I found the perfect one!
Unfortunately, I do not have the exact sign that I made but I can explain it easily enough. In the picture above, on the second row, I got the Custom Ave. sign. A friend of mine has the last name Geiger and every time he sees this street called Geiger Ave., he jokes about wanting to take the sign because it is "his." Therefore, when I saw I could customize my own avenue sign, I knew he would be the perfect recipient.
When you personalize your sign, you can change what it says (of course) but you can also change font size, color, and design…as well as adding clipart or other images. There was a lot I could have done, but I went super simple since I wanted my sign to look as realistic as possible for my friend.
Therefore, I kept the coloring white and simply changed Custom Ave. to Geiger Ave. Voila! A personalized sign that looks like it was taken off the street. I gave the final sign to my friend about a week ago and he was seriously shocked. He thought it was hilarious that I could actually give him "his" sign and I'm sure he'll put it up somewhere in his house. It was definitely a well-received gift.
For those of you that aren't sure what other type of people would want a street sign, I suggest guys (man cave, anyone?), kids (car-themed bedroom or playroom), or someone that just moved (you could get them a sign of their old street). There are lots of other things you can personalize on this site, though, from other signs to license plates to banners and more, so do follow the site!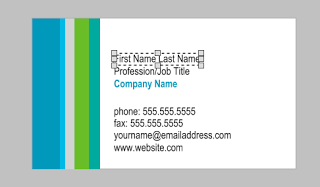 Along with the sign, I was given 250 business cards. I already had cards for my business, Shooting Stars Promotion, but I've been wanting some for just my blog. I chose the above design from the personal category. I included my name, blogger, and Shooting Stars Mag at the top. At the bottom, I got rid of the phone and fax lines, and just added my email and blog URL. Everything else looks the same as above. I love it, and I'm so excited to finally have blogger cards. If you're looking for business cards for your blog, company, etc. then I'd check out the site to see if they have what you need (there is even a section that's Start from Scratch!)