Before I introduce you to Megan from Cancan's Creations, I wanted to make sure everyone knew that the Holiday Season order cutoff is Midnight, December 5th (Yes that's tomorrow, and I'm sorry I'm giving you such short notice – I didn't realize it was close!) However, these are some adorable stocking stuffers/little gifts that don't break the bank AT ALL so hopefully you'll be able to grab some by the cutoff date!
Please pin the image below to help spread the word!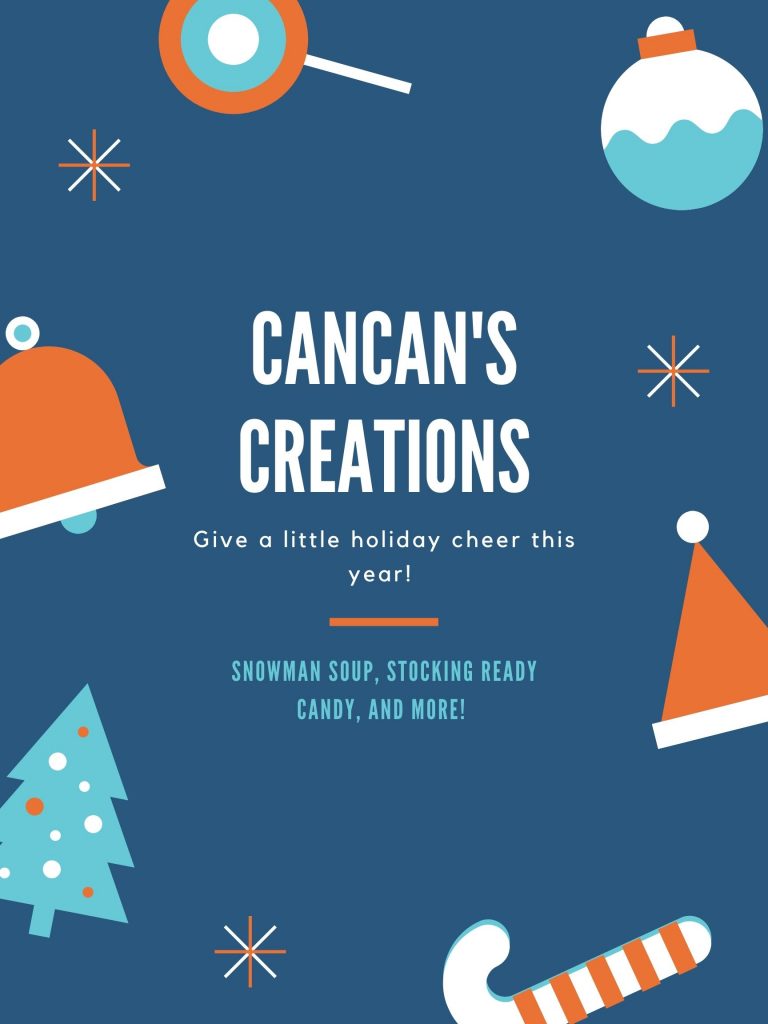 1. What's the story behind the name Cancan's Creations?
I started doing local craft shows a few years before I started my Etsy shop. I was trying to think of a name for quite some time. My nephew was young at the time and he couldn't say my name, "Aunt Megan", and instead called me "Cancan". I thought Cancans Creations was a unique name!
2. Most of the items in your shop are Christmas related. Is this true year round, or do you switch things up based on holiday, season?
The main focus of my Etsy shop is Christmas items. It is a holiday that mostly everyone celebrates and people are always looking for cute little gifts. I think that my gifts would make great stocking stuffers, bus driver gifts, teacher gifts, club gifts.. things like that. My favorite item that I sell is my Snowman Soup cup. I sell quite a few of them and I can imagine how excited a child would be to receive one! I have a handful of printable signs in my shop that aren't Christmas related.
3. Do you use any of your own products as gifts or favors?
I do use my own items! I always make too many of everything and I like to give them to friends and coworkers!
4. Anything you want shoppers to know?
I would like shoppers to know that I absolutely love making these products. I am detail oriented and very much of a perfectionist when it comes to all of my crafts. I spent a great amount of time planning and making sure everything is perfect and I take my time making sure every aspect is done to the best of my ability.
Lauren's Review
Now that you know more about Megan and the shop, I wanted to show off the items that I was lovingly sent to review for you all. These are all edible gifts, so it's not about the taste (as we all know what Hershey bars taste like, etc.) but more about the wrapping and presentation!
Here are all the items that I was sent:
(top row- going to the right): Snowman wrapped Hershey Bar, Ghirardelli treat holders, and Snowman wrapped popcorn.
(bottom row-  going to the right): Snowman Soup (aka Hot Chocolate), Hershey Milk Chocolate Nugget Snowman, Hershey Milk Chocolate Nugget Tray, and a Snowman wrapped Kit Kat bar.
I think all of these are beautifully designed and wrapped, and I love that it's a unique way to give candy (or popcorn). These would be awesome for stockings, but they also make nice little gifts for friends, teachers, babysitters, and more!
This flannel blanket with the snowman is from a craft show I went to this year, but I had to show off a couple of the items with it because it makes a lovely gift all together. I call this the Movie Night Bundle:
Snowman Popcorn
Snowman Hershey Bar
Unfortunately, it looks like both of these items are no longer listed. However, you can easily swap them out for a Kit Kat Bar and some Hot Chocolate. Pair them with a blanket or store bought popcorn and it's a great gift!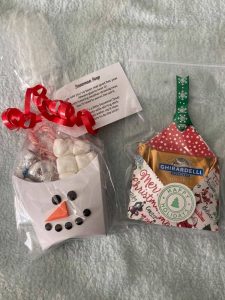 Next up, we have the Snowman Soup and the Ghirardelli Treat Holder. I figured I'd share some more details about these fun little gifts!
Snowman Soup: Attached to the box is a cute poem (you can read the full thing by visiting the shop) and inside the snowman decorated box are the following-
1 packet of Swiss Miss hot chocolate
2 hershey kisses with Christmas theme picture (snowman, reindeer, Christmas tree, Santa, ho ho ho, happy holidays, merry Christmas, etc)
1 mini candy canes
1 packet of marshmallows.
Ghirardelli Treat Holder: These are actually sold as a pair, so you get two treat holders! Each holder has two Ghirardelli squares – one in the front and one in the back. I love that these come with two chocolate squares, because it would be easy to simply have one in the front. Now it's a gift from either side!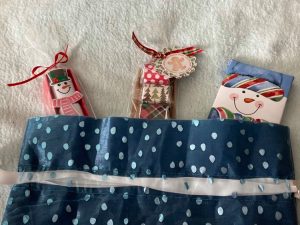 Now we have the final candy items – Hershey Milk Chocolate Nugget Snowman, Hershey Milk Chocolate Nugget Tray, and a Snowman wrapped Kit Kat bar. As you can see from my picture, these are great stocking stuffers!
Hershey Milk Chocolate Nugget Snowman: This little snowman is so cute. It's made with three nuggets and fully decorated to look like a snowman. It also comes to you in a plastic bag, tied with ribbon, so it's ready to be gifted!
Hershey Milk Chocolate Nugget Tray: For these, there are three patterns you can choose from when it comes to how the nuggets are wrapped. Each tray has five nuggets, which is a pretty good deal!
Snowman wrapped Kit Kat bar: This is one full-size Kit Kat bar wrapped in paper to look like an adorable little snowman!
Cancan's Creations has other Christmas themed items, including other edible gifts and even some mini Christmas notebooks, so be sure to visit and pick up a gift or two! And remember: you have until MIDNIGHT on Saturday, December 5th to make your holiday order, so go go go!!! 
Tell me, what would you most like from the shop? If you purchase something, let me know! I always love to see what people gravitate toward!