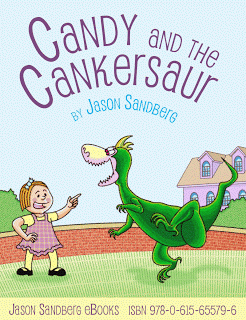 Candy and the Cankersaur by Jason Sandberg

Review by Lauren

Buy the Kindle Copy today for $1.99

copy sent for review, but all opinions are my own

Official Summary: This is the sweet and funny tale of a young girl named Candy and her Cankersaurus Rex! Candy receives a dinosaur as a gift and is determined to train him to be a good pet.
Review: Candy and the Cankersaur is an adorable picture book written and illustrated by Jason Sandberg. The illustrations throughout are like the cover above, so you get cartoon-ish (in a good way) drawings full of color and whimsy. The overall story is about a girl named Candy whose father gives her many unique gifts in order to spend all his time working. The next door neighbor, Chucky, is jealous of Candy and makes his parents buy him larger versions of the gifts Candy gets. However, when Candy is gifted an actual dinosaur, named Cank, Chucky must come up with a new plan to beat Candy.
There are various messages in this book if you're looking for that, though nothing is stated outright. There are no big "lessons learned" portion of the novel. It simply ends in a happy manner for all. However, if you want to find some lessons or message to talk about with your children, you could. There is the aspect of Chucky's jealousy and the right way to go about making friends. On a bigger scale, you could discuss Candy's father and how he gives her gifts instead of spending time with his daughter.
Each page in this book has a large, colored picture and the narrative of the story is below. I liked this, especially for a younger reader or for reading aloud, because there is plenty of illustrations to keep their attention. I think a lot of kids would enjoy this one because it has adventure, some humor, and a loveable dinosaur that most kids would want as a pet by the end of this novel!
Make it a Gift
Since the book is only available as an e-book, I think it would be fun to add something else to this story for the child to enjoy. How about a dinosaur stuffed animal they can cuddle with while you read the story at night?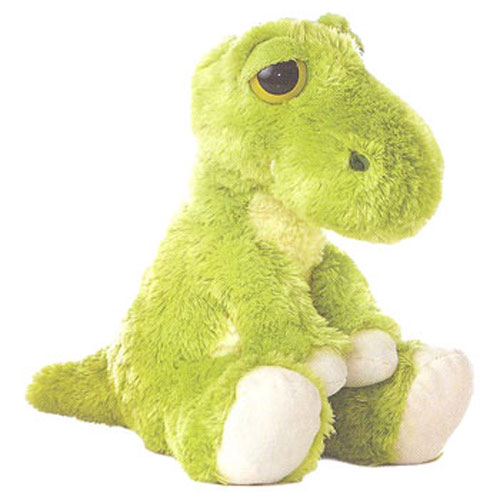 Aurora World has a T-Rex stuffed animal for only $13.00, though Amazon might have it for cheaper.