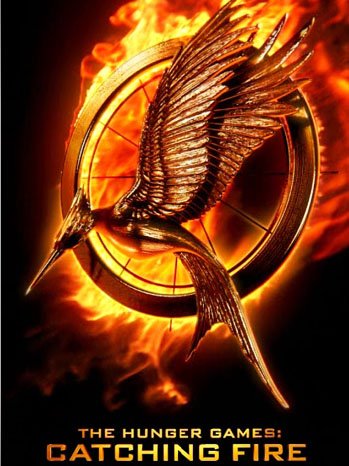 The Hunger Games: Catching Fire

Movie Review by Lauren

IMDB Summary: Katniss Everdeen and Peeta Mellark become targets of the Capitol after their victory in the 74th Hunger Games sparks a rebellion in the Districts of Panem.
Review: I went and saw Catching Fire at midnight this past Thursday. Normally these midnight releases include long lines where fans wait for hours to be let into the theater. This time around, that wasn't the case. While it worked out well, I did miss the camaraderie. The reason things were different is because there were many showings of the movie before midnight on Thursday, which doesn't make sense to me since the release is Friday, not Thursday. At any rate, I saw it at midnight and enjoyed being surrounded by fans as we were all, once again, captivated by this world.
Catching Fire is an emotional ride. I found myself teary-eyed a lot in the beginning of the film as Katniss and Peeta go on their victory tour, desperate to prove to President Snow that they do not want riots in the districts. Try as they might though, they can't stop the revolution from "catching fire." This ultimately leads them to a fight for their life. I know most people have read the books, but I don't want to ruin anything either, so I won't go into further details about the plot.
However, I loved seeing some old favorites back in the movie like Caesar Flickerman, played wonderfully by Stanley Tucci. He is a quintessential resident of the Capitol. He revels at the danger of the Hunger Games, and the audience can't help but laugh at his antics because it's so ridiculous.
As for new characters, I have to say that my favorite is probably Jena Malone as Johanna Mason. Johanna is a fierce, former Hunger Games winner, who isn't afraid to say what she thinks. Malone is the perfect choice for this character, in my opinion. I felt for Johanna, noting the emotion under her anger, but more than anything, I wanted to cheer her on!
So far, everyone seems to have loved this movie, and I'm very happy about that. I think it's a wonderful installment in the series and I can't wait for Mockingjay. The ending definitely made me cheer, but also bemoan the fact that I don't have the third movie ready and waiting.