Celebrate that City Gift Guide
My Favorite City is a wonderful website to visit if you're looking to get a gift basket honoring various cities' flavor! You can see Boston above, but they have Florida, Philadelphia, and more! To see all of these cities, you visit the Welcome Gift Baskets page and you can browse the various cities, choosing between the Travel Basket and the Welcome basket. Prices vary, but they are all around the $20-$30 range, so not terribly priced!
I will say that some baskets simply use the city by wrapping. You get a city-themed mug, but then the chocolate bar will be wrapped in city-themed paper, etc. The baskets I love the best are the ones that utilize local products like the Chicago Welcome Basket. Two of the more Chicago-specific items are-
Chicago Coffee – Sample some gourmet Chicago roasted Gourmet Coffee.
Chicago Nuts – A delicious snack from The Chicago Candy and Nut Company.
The BBQ Pantry on etsy offers up Chili by the State, and there is even a Chili by the State gift set (pictured above).
Etsy Shop Says: This is a party pack of chili kits. Try all 5 states that are known for their chili & my own competition chili kit. This is a chili lovers dream.
The states included are New Mexico, Texas, Arizona, Nevada, and Colorado. You can get these individually too, if you only want chili from one state.
For those in the U.S. who like to try food from other countries, you might be interested in the Try the World box subscription.
What the Site Says About Their Classic Paris Box:
The best way to experience a culture is through food and art. Sourced from across France, this limited edition box includes delicacies made by family-owned companies using traditional recipes. For the curious ones, here are some items we selected amongst many others that will delight you:
1. Tea blends by Le Palais des Thés
2. Salted butter caramels
3. Chabert & Guillot nougat bars
4. Artisanal natural jams by Alain Milliat
5. Sel de Guérande flower of salt (fleur de sel) from Brittany
6. Hot cocoa by Les Confitures à L'Ancienne
In addition, our team of local experts has put together a taste of the lifestyle through authentic cultural items, such as a handpicked playlist by French Djs, Marvin and Oscar. 
We carefully selected this assortment in order to offer you the most authentic experience of French culture.
Another lovely etsy shop, Mary Jo Larson, offers up a Cotton Canvas Envelope Clutch Bag with the city of your choice! The above photo shows you some examples of cities people chose!

I think this is such a cute gift idea! Maybe you have a favorite city you like to visit, or want to visit. Maybe you want to honor the city you grew up in…or the place you're moving too. So many options!

This next item is pretty gender neutral, which I love! The list of cities isn't long, but if the city you want is there, these City Map Glasses would be a wonderful addition to any kitchen! Some cities included are Chicago, Boston, and L.A. Check the link for the rest!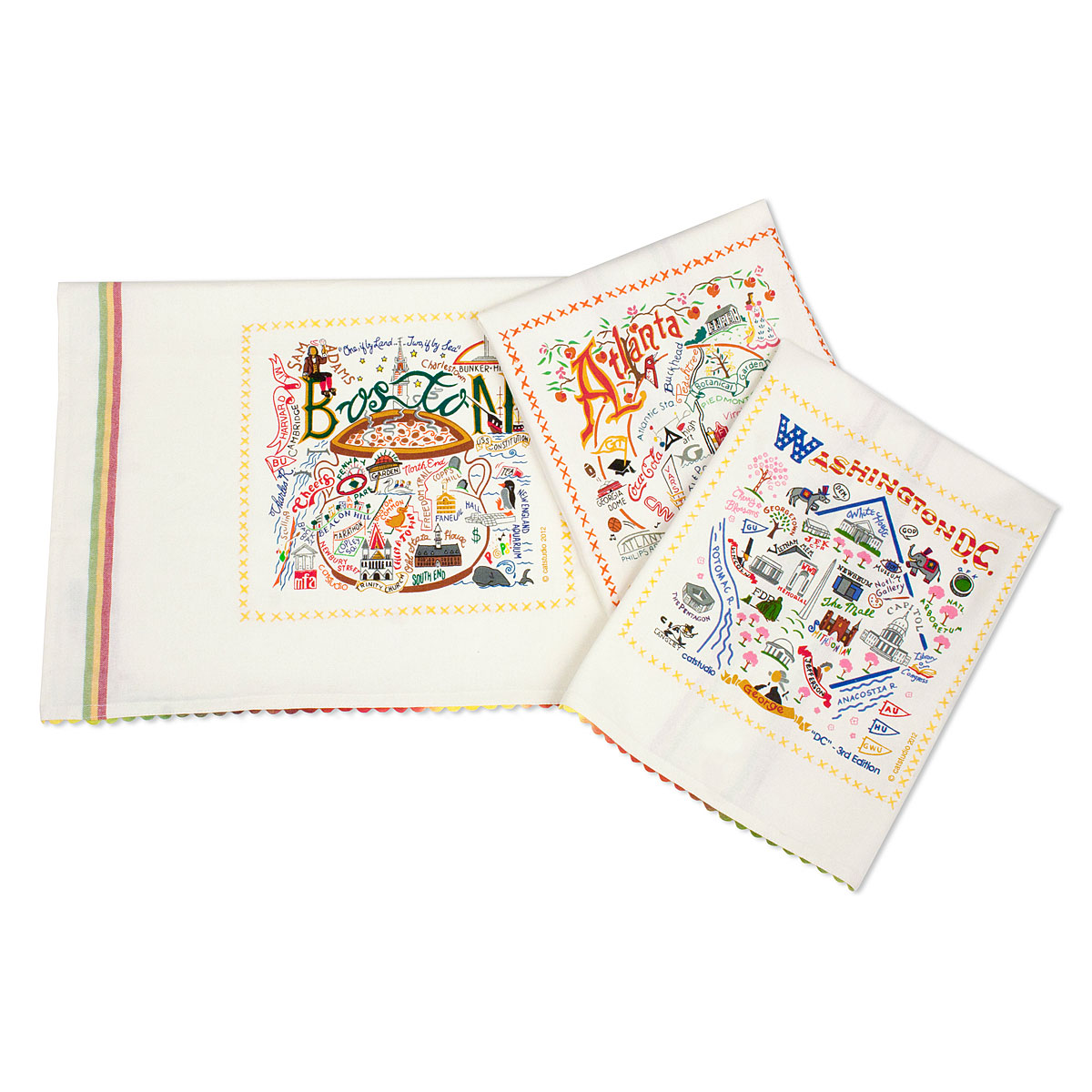 These City Dish Towels come from Uncommon Goods, just like the glasses above. There are more city options for these towels, so that's a plus! And it includes one European city (Paris).
***
Hopefully some of you will find a lovely gift celebrating your favorite (or current) city from the list above! If you need any more ideas, just email me at lauren51990 AT aol DOT com and tell me what you're looking for (as well as the city you want).