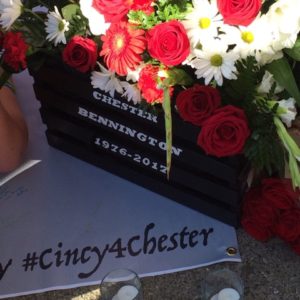 This past Saturday, I was supposed to see Linkin Park live for the first time. Sadly, on July 20 of this year, we as Linkin Park fans lost lead singer, Chester Bennington to suicide. Chester had battled addiction and depression for years. Fans know this, and it's obvious in Linkin Park's heartfelt, often emotional lyrics. However, these are lyrics that resonate with fans. They tell us we're not alone, that there is light in the darkness. Chester might have lost his battle, but Linkin Park fans will continue to listen to his music and fight for happiness in an often depressing world. I'll be honest – I'm not the best Linkin Park fan. I've loved their music for 13-14 years now. I used to belong to their message board, back when I had a desktop computer. I love their music and their lyrics and I've always been in awe of Chester's beautiful voice. But I don't own every album and I didn't keep up with them all the time, but that doesn't matter. Linking Park was – is– special to me, and when I learned about Chester's death, I was heartbroken.
However, Linkin Park fans came together in Cincinnati to organize a memorial for Chester this past Saturday at Riverbend Music Center in Cincinnati, Ohio. It was the same place and day that Linkin Park had been meant to play. I'm sure many of us there had had tickets for that show, so it was sad to go and not have that experience, but I appreciated being around Linkin Park fans; fans that knew how it felt to lose someone so amazing and so young. No tickets were needed and Riverbend even allowed for free parking. I do have to commend the venue for allowing us all to gather for two hours that night without asking for anything in return. The volunteers who put the event together definitely deserve a huge shout out too. There were also suicide prevention and awareness information on hand, which I thought was a lovely thing to do and important for that evening. There was Linkin Park music, posters to be signed and hopefully delivered to the band, bagpipes played during the official "memorial", a moment of silence, speeches, and even a big Cincinnati/Linkin Park family hug.
Cincinnati Pays Tribute to Linkin Park's Chester Bennington #cincy4chester #linkinpark
Click To Tweet
It was emotional, yet wonderful too. It was a moment I am really glad I was able to be part of, and I'm happy that my sister and one of my best friends was able to join me in remembering Chester.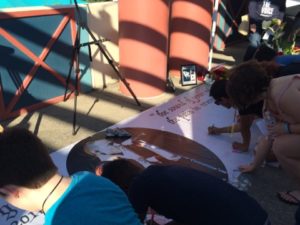 Finally, I took something along with me that will always be a memory of Chester and that night with Linkin Park fans. About a night or two before the memorial, I came up with the idea of bringing a book I had about Linkin Park called From the Inside: Linkin Park's Meteora. This is a biography, a photo album, a quote book, and more. It came out around their second album so it's quite old but it's something I've had for years. I took the cover off, brought a silver sharpie, and brought the book with me. After arriving, I went around the venue and asked people to sign the book  anywhere – on the cover, in the inside covers, anywhere in the book. It didn't matter to me. I just wanted this memory. People were so nice about it and happily signed the book – many even wrote a little note to Chester, which I thought was amazing and touching.
People flipped through the book, talked about memories of Chester and Linkin Park, thanked me for asking them to sign it when I was so thankful they were doing so. It was a really great moment. I even had my sister go around and ask people too, and she agreed that it was an emotional experience. This book will be something I will always treasure – thank you to everyone who signed it and made it that much more special to me.
Thank you to everyone who put together #Cincy4Chester, came to the memorial, and generally made the night a success. I'm sad it wasn't the live show I had been looking forward too, but I'm so glad we all had a place to go to say goodbye to Chester…surrounded by our fellow Linkin Park family.
Who cares if one more light goes out...Well, I do
Click To Tweet
If they say
Who cares if one more light goes out?
In a sky of a million stars
It flickers, flickers
Who cares when someone's time runs out?
If a moment is all we are
We're quicker, quicker
Who cares if one more light goes out?
Well I do
"One More Light" by Linkin Park