*disclosure: memory book sent for review; all opinions are my own. Post includes affiliate links; any purchase helps the blog at no extra cost to you*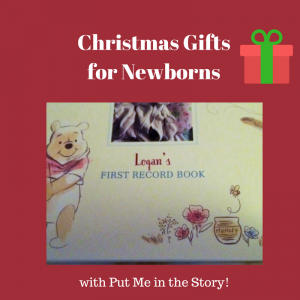 Buying a gift for a newborn can be difficult! You want to celebrate the new baby in the world, but what do you get them besides clothes? Well, I'm here to share some fail proof ideas that you can happily steal! Feel free to share your own ideas in the comments! I'd love to know them!
A friend of mine from high school just had her first baby, a little girl named Logan, on Halloween. When I was contacted by Put Me in the Story about reviewing their Disney's Winnie the Pooh: Baby's First Record Book, I immediately knew I had to make one for little Logan!
I've worked with Put Me in the Story in the past and I just love their products. How fun would it be to get a personalized book? If you've ever thought about buying a personalized book but wondered about the cost or not knowing how long a child would be interested, then this is the book you should start purchasing! A baby memory book is something that the parent – and then most likely the child – will forever keep. I know I love looking back at my own, and Winnie the Pooh has always been a favorite of mine so this one is just adorable! As you can see in the above photo, the cover allows you to put the baby's name and photo!
In the very beginning of the book, you can add your own personal message and then the same cover photo is included right below it!
I love that throughout the book there are Winnie the Pooh quotes and illustrations that relate to the page. The one above is the first photo of Logan, so the parents would add their first sonogram there.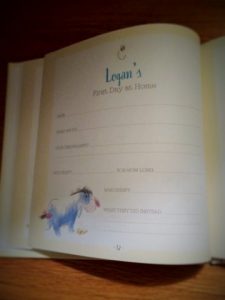 This page is Logan's First Day at Home. I love that there is so much for the parents to fill out as the year goes on and their little one grows. It's such a sweet memory that they are sure to love. You can check out more of the book's inner pages here. This book costs $34.99 but Put Me in the Story is currently offering 30% off sitewide when you use the code HOLIDAY30 so buy now!
Christmas Gift Ideas for Newborns with Put Me in the Story #review #christmas #giftguide
Click To Tweet
***
Ready for some other newborn gift ideas? Let's go!
Offer to Babysit: Hey, this is a gift for the baby, though I'm sure the parents will enjoy it a bit more! Having a new baby can be tiring and overwhelming, so make up some fun coupons or just let your friend/family member know that you are up for babysitting if they want a little time to themselves – even if that's just an afternoon nap some weekend!

Hand print or foot print ornament

: I love these personalized ornaments! It's such a cute way to commemorate a new baby and it's something that can be taken out every single year! Some options are here, here, and here!
Something Personalized: Like the memory book and the ornaments, I think personalized gifts are really sweet. It shows that you put a little thought into the gift and wanted something for that specific child in your life. Some options are this personalized throw pillow, personalized best.gift.ever. bodysuit, or even this Teddy Bear Pewter Baby Cup!!
Clothes/Accessories: Yes, I know I started this post saying that it's hard to think of what to give newborns other than clothes, but sometimes you really can find the cutest things! Try looking for something a bit different or unique, such as this Petit Ami Newborn Girls Christmas Santa Smocked A-Line Dress or the boy's version, the Petit Ami Baby Boys Newborn Long-Sleeve Christmas Santa Coverall & Woven Shirt Set. Other ideas are these absolutely adorable moccasins for girls, dog hat and booties set, or even this quilted pram from Carter's. Too cute!
If you're still looking for more ideas, check out the images below and click on the ones you'd like to learn more about!