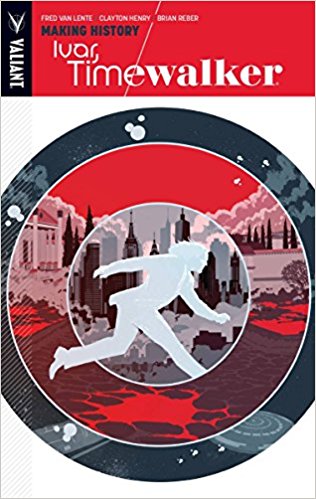 Ivar, Timewalker Vol 1 by Fred Van Lente and Clayton Henry


Review by Lauren


source: from Comic Bento (I am an affiliate); all opinions are my own


Official Summary: At this very moment in Geneva, Switzerland, history is being made. A thousand meters underground inside the Large Hadron Collider, researcher Neela Sethi is about to discover time travel – and jeopardize her life in the process. But she doesn't know that yet. Ten minutes from now, every deadbeat chrononaut, wannabe conqueror, and misguided protector of the timestream will be banging down her door. Good thing that the legendary Ivar, Timewalker, got there first… right? Now it's down to history's most jaded, most tempestuous time traveler to stop the worst of everything that is, was, and will be… before time runs out!
Review: I would never have known about Ivar, Timewalker if not for Comic Bento, which is just one of the many reasons that I love this subscription box. You get around 4 or 5 graphic novels sent to your doorstep every month, with a new theme each time. I was sent the May 2016 box in order to do a review and spread the word about Comic Bento. I'm also an affiliate, so if you want to subscribe, use any of the links in this post and I'll receive credit and you get 15% off your first box (thank you!!)
Anyway, back to the actual story. I'm definitely curious about continuing this one, but I will say that aspects of the story can be a bit confusing. Regardless, I want more answers! Ivar, Timewalker, has taken Neela Sethi from her lab, traveling through time, in order to keep her safe. He tells her she was close to inventing time travel and he needed to stop her because it would gravely affect the world. The two of them visit the past and the future, so it's a bit like being the companion in a Doctor Who tale!
There is more going on than Neela or the reader knows though, and that's what makes you want to continue reading. Ivar seems like a good guy, but someone doesn't think so. Who is the good one and who is the bad one? Who can you trust? We don't know, but you'll want too!
I received other graphic novels from Comic Bento but I haven't had the chance to read them yet, so hopefully I can get to those soon and share what I thought. If you visit the website though, you can get a lot at what past boxes contained, as well as buy just that month's box if you see one you really like! A one month plan is $20 a month plus s/h and the price goes down each month the more months you sign up for – three month, six month, and a twelve month plan is $17.50 a month with free shipping, which is a pretty good deal! It's one I'm thinking about for the future as I really love getting all these new graphic novels in the mail.