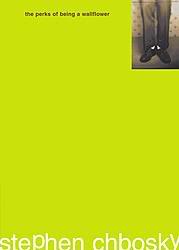 A Conversation with Stephen Chbosky, author of The Perks of Being a Wallflower
By: Lauren
First off, I have to thank Stephen again for being so patient with me and willing to answer my questions, even though it took forever (honestly, this is over half a year in the making). For those of you who don't know The Perks of Being a Wallflower, Stephen also wrote the screenplay for a little film called Rent. Before you read this interview, just know this: If you haven't read the book, read it. If you have, that's amazing and I hope you're excited about the future…
Now, here is a song for you to listen too and enjoy while reading the interview. It's called "Love Always Charlie" by the 7 Shot Screamers, based on the book Perks of Being a Wallflower.
http://www.myspace.com/7shotscreamers
Lauren: I tried to get questions from other fans and there's a band called You, Me, and Everyone We Know and the singer's names Ben and he had a couple questions.
"What inspired you to write a book in the format in which it was written and did you have any obstacles to overcome while doing so for Perks of Being a Wallflower?"
Stephen: I chose the format because I thought it was the most intimate way to talk directly to the reader. I didn't want it to read like a book, so much as an honest one-on-one conversation between myself and the reader or in this case, Charlie.
There were no obstacles. Once I realized that was what I was trying to do, it all came pretty naturally after that.
Lauren: Okay, cool. His next one was "I've never felt connected as much with a fictional character as i did with Charlie, but more often than not when i talk to people who have read and loved Perks, they often feel the same way. Why do you think that is and what are your feelings about that conclusion?"
Stephen: I don't know why that is, just maybe…that's a difficult question to answer. It's hard to be a judge of my own work. But if I were to venture a guess, I'd say that Charlie is…uh…he might be relatable because he's talking directly to the reader. And the things that he experiences in the world of firsts so purely, his first kiss, or you know, all of his experiences most of us have had. And he experiences them so purely and I think there's a part of us that it'll resonate inside of us. You know what I'm saying?
Lauren: Yeah, I think that makes a lot of sense and I think he's just kind of like multi-dimensional in a lot of him and his friends, and it's kind of relatable to a lot of people in many ways. So that's definitely kind of what I felt when reading it.
Stephen: Yeah, for example, Charlie's love for Sam…we've all had that…you know, love to the point of worship. I guess you could call it a crush, but it's way more then that. Especially at that age, love with such intensity, such abandon, and I think that Charlie tries to speak as honestly as possible about those things. I think that makes him quite relatable. That's why I think it happens.
Lauren: I think that's a very good reason why people like it. I've found that a lot of people like it for the same reasons and they really like the quotes and how it just resonates with a lot of people.
My next question is from another author. His name is Drew Ferguson and he wanted to know if "you regretted publishing PERKS with MTV based on the subsequent publicity and attention?" I think he means how it blew up and became this huge thing, if you regretted that or I guess if it was good for you or didn't really matter either way.
Stephen: It didn't matter either way because, first of all, back in 1999, it was ten years right now, and at the time Pocket was the only ones who wanted it. So it wasn't like I had much of a choice. But even with that said, I knew that because of MTV, a lot more young people would hear about my book, which was very important to me, but I also knew that there were a lot more say established parts of the publishing business or the book world that would turn their noses down on it because it was MTV and in the end, the choice was "I'll go with MTV and more people will read it" versus "I'll go somewhere else and less people will read it, but some critics might think more of it." I'll take people anytime over establishments.
Lauren: Yeah, I think MTV books now is a lot different. Some people still see it that way but if you're really into books, you can kind of tell that they really publish some thought-provoking books, especially now, and I know there's another author Stephanie Kuehnert who her first book I Wanna Be Your Joey Ramone just came out through them and I was talking to her and she said that that one of the main reasons she was really excited about them picking up the book was because of Perks of Being a Wallflower came out through there, so I mean, I think it's just a book, it doesn't really matter where it came out from.
Stephen: And the number of people that have judged it and have thought it was just teen marketing fluff or whatever is a pretty small minority. I'm pleased its reached so many people.
Lauren: Cool. "In the novel, the group of friends put on performances of the Rocky Horror Picture Show. So before you'd written this, I'm guessing you'd seen this and what were your experiences going to something like this?
Stephen: Yeah, I've been to see the Rocky Horror Picture Show with a floor show in now four different cities: New York, Los Angeles, San Diego, Pittsburgh, where I'm from. And I've never been part of a floor show but I had a mad crush on a girl who was, so I went to see her a lot. One in particular, there was a show in San Diego that I went too, and I remember seeing a girl…she ran the performers, she was the stage manager basically…and she was a punk, I think she was 17 years old, she was yelling at everybody.
I just remember thinking "You know, in like ten years, all the punk clothes are gone, and you're gonna be a manager at a business somewhere and you're gonna be yelling at your employees." And I just so loved that and the entire character of Mary Elizabeth was based on this person. I never even met them, I just saw them. Like on the street. I thought "Ah, I wanna know who that person was." I never forgot her. She was so great. And yeah, that was my Rocky Horror experience.
Lauren: That is great. Yeah, I actually just saw it this past October, it was like the day after Halloween I think, and it just kind of adds more. I've found that reading the book as I get older, there's different things that I can actually relate too more, so that was kind of a funny experience, because I just kept thinking back too the book and I kind of knew what was gonna happen before I even went.
Stephen: That's great. Oh, you'd never seen it before?
Lauren: No, I'd seen the movie but I'd never actually gone to see people perform it.
Stephen: Yeah, absolutely. That's the best.
Lauren: It was definitely a really good time.
Stephen: There's a new one out here called The Room, in Los Angeles. Tell your readers in Los Angeles to go see The Room once a month.
Lauren: Alright, I will definitely let them know that! Well, I'm a really big fan of the musical Rent, which you wrote the screenplay for the movie, but how did that even come about?
Stephen: I'd done a screenplay for Miramax, a little adaptation called "Audrey Hepburn's Neck" and they really liked my work on that screenplay, I had a lot of ideas for how to do the movie, and at the time I was very very young, very very hungry, and very cheap. In terms of like studios, because studios for the most part, if they can get away with it, they don't want to really pay that much money. So they got me for a song, and I loved it so much and I just wanted to do a great job, so that's how it came along.
Lauren: That's great! So what do you like, I mean for the play in general, what did you really like and what did you try to make sure the movie had based on the play?
Stephen: The thing I loved about the show itself, I just loved the central message. I thought the idea of living for today, no day but today, was beautiful and inspiring and something that really helped me in my own life. Similar to, let's say, Dead Poets' Society, "carpe diem." So I love the message, I love the music, and I love the characters and the ideas of the characters were really beautiful. I was very inspired by the fact that Jonathon Larson, that world was so his own, he so inhabited that world, and you could tell he loved his characters and he loved their struggles, and their hopes, and their dreams and that was very infectious for me.
Lauren: Definitely, I thought it was great. I'd seen the play before and before I'd even seen the movie and I thought it did a really good job keeping it and it was really nice they had the majority of the originals just for the people that hadn't seen it.
Stephen: And they're all nice people too. I talked to them a little bit on set, and they're really really nice.
Lauren: Really? That is great.
Stephen: Not a jerk in the bunch. They're just really nice people.
Lauren: That is great. I know they are touring at the moment, I know Adam and Anthony are in it, and I just would have loved to have seen that, but they just didn't come close to me. Well, my last question is actually "What are you currently working on? Do you have any plans to write any more books? What exactly are you doing at the moment?"
Stephen: I've been writing the screenplay adaptation of the Perks of Being a Wallflower.
Lauren: Really?
Stephen: Yeah, because I very much want to make the movie version of the book. And I'll direct it, and yeah, I'm writing the screenplay now. I should be done very soon.
Lauren: That is great. So when exactly would you hope for it to come out? Next couple years or…?
Stephen: Next couple of years, yeah. My thing has been from day one, I've had, at this point, probably a hundred offers on people to buy the book and make it a movie or TV show and I've turned them all down because I really wanted to do it right. It was very important to me. The book is, you know, the book is my baby, and so I hope in the next couple of years, if I can get the screenplay to where I really love it and I find the right three kids to play Charlie, Sam, and Patrick, then you know…I think we'll be able to raise the money without too much problem. So yeah, cross my fingers that all that happens.
Lauren: Definitely. I know a lot of people were really curious about that because there's been a lot of talk of it becoming a movie, and I think with you actually taking control of it, it'll work out better because you can get what you want and the fans, they can't really complain about that it's not true to the book because, I mean, you kinda just make it the way you wanna make it, and I think that's great.
Stephen: Yeah, and how I feel about the movie is that I know that, because you know I've read books that I've loved and I saw the movie versions and it's never…everyone has their own version of what the book is, their own version of what Charlie looks like, and Sam looks like, and Patrick, what he looks and sounds like, you know. That's what I love about books so much. It involves the reader so deeply. So all the movie can ultimately be is my version of it, you know, and I hope that people who love the book can get a little bit more insight. Because it is the book, but there are certain little differences that I hope they find interesting.
Lauren: Definitely, I'm really excited, so I really hope it works out.
Stephen: And to answer your other question, I will write more books. Absolutely will.
Lauren: That would be great. I've definitely been wondering about that ever since I read the book and that's awesome. But that's actually all my questions so thank you so much. I appreciate it.