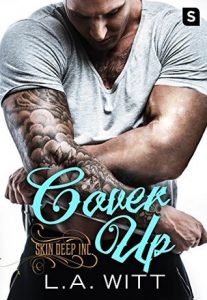 Cover Up by L.A. Witt
Review by Lauren
source: copy from Netgalley; all opinions are my own
Official Summary: After ten years of blissful marriage, Navy Pilot Nate Chandler is divorcing his cheating husband. Single for the first time in years, Nate is numb to all emotion and kisses any chance of another relationship goodbye.
Not only is Nate struggling to get through this divorce, but his body is branded with a permanent reminder of his failed marriage: a matching tattoo with his ex. Searching for a place to cover up his old tattoo, Nate finds himself at the Skin Deep, Inc., where he meets the young and charming cover-up tattoo apprentice, Lucas Brandt.
From just flirty glances to steamy hot encounters, Nate and Lucas dive headfirst into a fling of hookups. But worried that he'll forever be Nate's "cover up" rebound relationship, Lucas fears that their love won't be anything more than just skin deep. What was once just a casual attraction, Lucas now hopes to turn into a real relationship. But will he be able to convince the still tender-hearted Nate to fall in love again?
Review (add on Goodreads): Cover Up is the third book in the Skin Deep, Inc. series where Navy and Tattoo artists meet and fall in love. What I loved about Cover Up is that readers already know Nate and Lucas. They have both been in previous books. Granted, it's okay if you start with this one because everything you must know about them is included here, like the fact that Nate is divorcing his husband after ten years for cheating on him (regularly) and that Lucas is much younger and yet twice divorced (from women). They meet when Nate goes to the tattoo shop to see about getting a matching tattoo he had done with his husband covered up. Of course, this first meeting leads to the two of them falling into bed with each other. Lucas is used to hook ups and he's okay with that. Nate is more the one-man only type of guy but after his husband, he hadn't felt attracted to anyone in awhile. Seeing Lucas and wanting him leads him to go with the flow and see what happens. Granted, this turns into more than a one night stand and soon the two of them are seeing each other as much as possible.
Despite the age gap, I really liked the relationship between Nate and Lucas. Nate is reeling from a divorce, and he's desperate to find a way to let him forget, but Lucas has been divorced twice already and knows that these things can take time. He doesn't push Nate – until it's really needed – and Nate is a sweet guy who tries to take care of Lucas too, like bringing him lunch at work since Lucas works three jobs. The couples from the previous books do appear in Cover Up, which I always love. It's like getting mini sequels, allowing you to see where they are now in their relationship.
Cover Up is definitely about taking chances and finding love again when your heart has been broken. I recommend all of these books!
Dual Reviews #ontheblog: Cover Up and Five Dares #mmromance
Click To Tweet
Five Dares by Eli Easton
Review by Lauren
source: copy for review; all opinions are my own
Official Summary (add on Goodreads): Andy Tyler has been the class daredevil since middle school. Over the years, he's convinced his best friend, Jake Masterson, to perform some dangerous-looking stunts with him. But the dare they attempt on the night of their college graduation goes sideways. The firecrackers explode too soon and both of them end up with badly burned palms.
But hey, nothing gets the "terrible two-o" down for long, and they recuperate in style at Andy's family cottage in Cape Cod . As the weeks go by, both Andy and Jake grow frustrated over the inability to use their hands for all sorts of daily activities—including getting off. So Andy begins a new series of dares that don't just cross the friendship line, they obliterate it.
But what might be mere sexual relief to Andy is serious business to Jake, who only recently got over years of secret pining for his straight best friend. Inevitably, the burns heal, summer ends, and hearts are broken. To fix things, Andy will have to face the greatest dare of all.
Review: Five Dares has an interesting premise, I will admit, but I love friends to lovers romances so I had to check it out. I ended up really enjoying this one. Jake has been in love with Andy for years, but he hasn't even come out to his friend. He wants things to stay the same and he's afraid that if he does admit he likes guys, that's one step closer to blurting out his feelings for Andy. Now – before you start wondering if this is a gay for you type of romance, it's not. Yes, Andy does end up admitting his own feelings for Jake (shouldn't be a spoiler; it's a romance after all!) but he also states that he's bisexual. I always appreciate characters that are bisexual too; it's not always gay or straight, you know? More books should explore that aspect of sexuality.
Five Dares is a fun read – obviously the main dare that really pushes the guys together is based around sex, but there are flashbacks to when they are growing up and you learn about the other dares Andy comes up with. These range from a bit gross to putting-your-life-in-your-hands. It really shows the dynamics of Andy and Jake's friendship and I thought they really tied in well with the story (read it and you'll understand!)