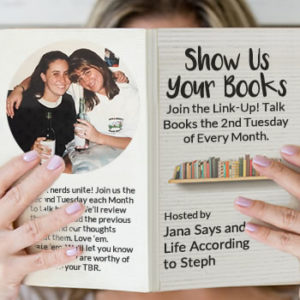 It's the second Tuesday of the month and that means it's time for Show Us Your Books with Jana and Steph. There will be a special Show Us Your Books on Tuesday, December 26th too where you can share your favorite books from the whole year – so link up now or then, but please join us!
Show Us Your Books: Cozy Christmas Edition #bookreview #ontheblog
Click To Tweet
I'm a big fan of cozy mysteries – though I need to read them more often – so I thought I'd share two cozy Christmas-themed books that I've read in the past month!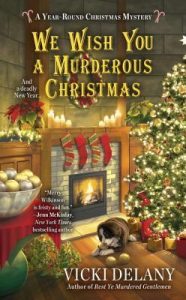 We Wish You a Murderous Christmas by Vicki Delany 
Review by Lauren
source: personal copy; all opinions are my own
Official Summary (add on Goodreads): It's Christmastime three hundred sixty-five days a year in Rudolph, New York, and as Christmas Day approaches, shop owner Merry Wilkinson is enjoying a rare evening off at the Yuletide Inn when she runs into owners Grace and Jack Olsen. With Jack's health failing, Merry is relieved to hear that his son Gord will be taking over the day-to-day running of the Inn. 
But then Gord reveals that his new plans have no room for Christmas at the Inn, and Merry and the other shopkeepers start to fret about the effect a bland franchise hotel could have on their livelihoods.

When Gord is found stabbed to death, there's an entire town of potential suspects—and it's up to Merry to find whoever brought homicide home for the holidays… 
Review: This is the second book in the Year-Round Christmas Mystery series. Since all the books relate to Christmas, there shouldn't be any problem starting with book one – but you could probably start here and not be too confused. This is one of my favorite cozy mystery series and I need book three ASAP (it just came out in November). I love that while there are romantic interests in these books, it never overtakes the story. There is still plenty of mystery and suspense, and Merry also spends a lot time with her parents and best friend. Rudolph, New York just sounds like a a fun town – it's essentially Christmas Town and the holiday season is their busiest. Of course, when someone ends up murdered – and on the hotel grounds – it puts a bit of a damper on people's Christmas spirit. Most people didn't like Gord, so the town is full of possible suspects. Merry is desperate to prove it was anyone but her dad, though, as the police keep looking closely at him. Definitely a great addition to the series! I highly recommend.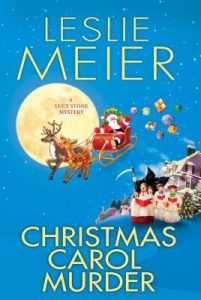 Christmas Carol Murder by Leslie Meier 
Review by Lauren
source: copy from e-library; all opinions are my own
Official Summary (add on Goodreads): Lucy normally loves planning for the holidays, but this year Tinker's Cove has fallen on hard times. With so many residents struggling to make ends meet, Christmas festivities are a luxury some can't afford. But the story's not so bleak at Downeast Mortgage, whose tight-fisted owners, Jake Marlowe and Ben Scribner, are raking in profits from everyone's misfortune. Half the town is in their debt, so when the miserly Marlowe is murdered, the mourners are few and the suspects are many . . .
Can Lucy find the murderer amidst the yuletide chaos? She's going to have to move fast, as there are death threats flying about, not tom mention a ghostly visitor . . .
Review: I've read a few books in the Lucy Stone series (this is #20). While characters and certain background information is mentioned, I feel like you could jump into this series anywhere you wanted. This wasn't my most favorite in the series, but it wasn't terrible. It's essentially A Christmas Carol come to life, with Jake Marlowe being murdered and then Ben Scribner (Scrooge) being targeted. As a local reporter, Lucy is curious who in her small town could have possibly murdered Marlowe, even if the man was awful. I think these books are fun – cozies are all kind of fun in my opinion – but again, this wasn't a favorite of mine. I just felt like aspects of the book were annoying – especially Lucy's daughter Sara who gets wrapped up with a social activist and essentially turns into a bit of a brat over it. All the Christmas aspects in the book were nice though!