It's a new Currently! I'm linking up with Anne from the blog In Residence. Feel free to answer the prompts in the comments!
Currently: Festive edition! What are you lighting, spending, choosing, etc.? #currently #ontheblog
Click To Tweet
Lighting: All the candles! We're actually running a bit low so I need to find some more festive scents. I just love having candles glowing at night; it's very relaxing.
Spending: Well, I'll go with the obvious and say "money" as I'm sure most of us are doing. I'm about halfway through my Christmas shopping. I'm usually way more ahead, but not this year for some reason. I am really trying to take advantage of deals/free shipping though as it makes buying gifts that much more enjoyable. I do really like buying for other people though. It's fun to try and think of the "perfect" gift for them, with the hope that they will really love it!
Choosing: What fun Christmas/holiday events I want to do/attend. I have a lot of library craft events this month, which I always love doing. I also want to make it to the Festival of Lights at the Cincinnati Zoo at least once, as well as Winterfest at King's Island (first time they've had it in 12 years – I missed it!), watch all the holiday films, bake more cookies, see as many friends as I can, and whatever else I can shove into the month.
Sending: Christmas cards/gifts…well, I'm planning to at least! I really need to focus on getting some things in the mail this week or next before shipping becomes outrageous or the recipients don't get it until after Christmas and I don't want that!
Singing: Some Christmas music. I haven't listened to a lot of it yet, because hearing the same songs over and over can drive me a bit nuts. I do want to buy some of my favorite artist's Christmas albums though (and bust out Kelly Clarkson's c.d.) because I tend to enjoy those more.
I'll be sharing my Winter Bucket list next week, so I thought I'd share how my Fall Bucket List went.
Have a Halloween Movie Night: I did! I had an official movie night with some friends at my sister's place. We watched Hocus Pocus and Dorian Gray. I ended up having a movie afternoon after this though with a friend that couldn't make it that night. We watched Double Double Toil and Trouble (yes, the Mary-Kate and Ashley movie) and Halloweentown. Both movie "nights" were a lot of fun!
Go to a Halloween/Fall event: I went to the Fall Food Fest at Findlay Market in Cincinnati, Ohio and ate some yummy food! I don't have any pictures though…
Fall Bucket List 2017: How did I do? What did you do this fall?
Click To Tweet
Make a Halloween treat: I don't think I made anything Halloween specific…food wise I mean!
Read at least one spooky/Halloween appropriate book: I actually read quite a few Halloween appropriate books such as The Diviners by Libba Bray, Croak and Scorch (books 1 and 2 in a series) by Gina Damico, Summit Lake by Charlie Donlea, The Witch Boy by Molly Ostertag, and I Am Not a Serial Killer by Dan Wells.
Make a fall/Halloween craft: Yes! I went to a couple library craft events with my mom and we made some fun items!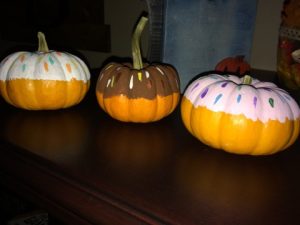 The first photo are glass bottles that we painted and then decorated. My mom's is the red one and mine is the goldish one. As for the pumpkins, the ones that look like donuts are my mom's pumpkins and the other three are mine. Obviously we painted these! I think they all turned out well, minus the purple/green one I made. LOL The paint didn't really work the way I wanted, but I loved how the other two looked!
Eat caramel apples!: I did! I actually ate my favorite caramel apple from Findlay Market, but I didn't get a photo of that one. The one above is from Graeters – which is a fantastic ice cream shop. Unfortunately, the caramel apple wasn't the best.
Go to Halloween Haunt at King's Island: Yes! I made it on the last weekend, so I only got to go once, but it was fun.
Go to Winter Fest at King's Island: I'm planning on going this Saturday and I can't wait. It's been 12 years since they've done Winter Fest so it should be a lot of fun. And technically it's still fall until December 21, the first day of Winter!
Go to one author event: I was hoping to make it to two author events, but hey, the list only said one, and I did! I saw author John Green, along with his brother, Hank. You can read my recap here.
Have a cookie exchange party in December: Done! My sister and I hosted our annual Cookie Exchange Party this past Saturday and it was a lot of fun. I'm a slacker and didn't really take pictures, so the above is the only cookie photo I have. I actually decorated these at Michael's (yes, the craft store) last Tuesday. I was the only one who went to the cookie decorating event so I got to do as many as I wanted. I ended up saving most of them for the party and they were a special little treat for people during the party – since most people don't want to eat the cookies they get AT the party. It's more fun to save them!
***
All in all, not bad! I think I only missed one thing on the list.
Tell me: how was your fall? Any winter/holiday plans you hope to accomplish?