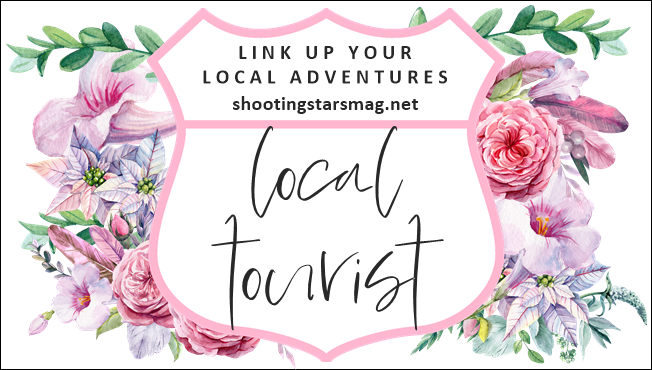 It's the final weekday of December (and 2020) and that means it's time for Local Tourist with Dara and myself. Have any fun local adventures this past month? Link up with us!
December 2020: Local Tourist
In the beginning of the month, I went to the Cincinnati Zoo to see the Festival of Lights. It was so pretty, and with timed entrancing and limited number of people, it wasn't terribly crowded!
Another outing in December was visiting Coney Island and their Nights of Lights with my mom. We went on a Thursday evening, and let me just say – try going Monday through Wednesday instead. It was really crowded, and you don't realize HOW crowded until you're in the parking lot, going through the line.
We were in our car just waiting  – and slowly making our way to the entrance- for about two hours. We're both glad we went, because it's beautiful and the music on the radio matches so well to the light display, but whew, not worth 2 hours of wait time!
Finally I went to the Ohio Renaissance Fairgrounds one Saturday evening because they were having a Winter Yuletide Village. You had to get tickets ahead of time, because there was a limit on how many people could be there each evening. It was fun to see the Renaissance village all decked out for the holidays.
There were some beautiful lights and yummy food. I even got a S'mores pack with which was a bag with two marshmallows, two graham crackers, a Hershey bar, and a stick for the marshmallows. They had fire pits throughout the village so you could make your own S'mores! Too fun! I'm hoping they will do this again in the future, even if we have a normal Renaissance year, because it was fun!
And that was my December! I definitely did a bit more this past month than normal – well, 2020 normal. It was fun to get outside and enjoy some beautiful lights and Christmas traditions (new and old).
If you have something to share, please link up here!
You are invited to the Inlinkz link party!