Affiliate links are included in this post; I get a small percent of sales at no extra cost to you. Thanks for supporting the blog, and please share the image below!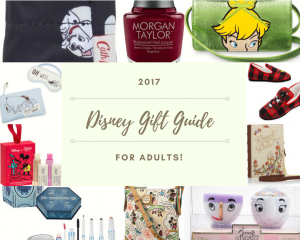 Disney Gift Guide – For Adults! 
 I'm a huge fan of all things Disney, so I'm always really excited when I see Disney related products or learn about new collaborations that Disney has going on.  Therefore, I thought I'd create a fun gift guide of Disney items that would make the perfect gift for adults. Why should kids get all the Disney fun?
Practical But Cute….
You can see most of my picks in the image above, but check out the widget to a full idea of what's included (as well as the price – and if any sales are going on). For the friend or family member always on the go, might I suggest this 
Eeyore Sleep Mask
? It's important to keep up with your sleep, especially this time of the year when everyone seems to be busier than usual! Another practical, but oh so cute, idea would be this adorable
Disney umbrella
!
All Things Purses! 
Now if you're looking for something for a night on the town, or have a bag-aficionado to shop for, there are plenty of Disney themed bags and clutches to grab. A couple in my guide include the
Beauty and the Beast book clutch
, which I find absolutely adorable and I think any bookish girl would love to have, as well as the
Tinker Bell cross body bag
– a cute, fun bag for a girl's night out! Plus, I love cross body bags!
Before I go on and on – and you better believe I could – I'll stop here and just let you "shop" the guide yourself. There's the practical, the bags, the beauty, and more! You can look through the widget or check out the links below (I wanted to make sure everyone could easily check out the products, so I included both ways to look!)
Let Me Know!
What do you think? Anything catch your eye, or do you have your own Disney related product to share? Let me know in the comments! Also, I'd be happy to do more of these gift guides so feel free to leave themes/categories you'd like me to focus on!
Tinker Bell Phone Crossbody Bag – Danielle Nicole • Disney • $39.95
Disney Sketch Crossbody Bag by Dooney & Bourke • Disney • $198
Morgan Taylor Beauty and the Beast Nail Lacquer Collection • Morgan & Taylor • $9
Mally Beauty Mally Disney's Frozen 7-piece Collection • Mally Beauty • $49.98
boohoo Disney Beauty And The Beast Lip Balm Duo • boohoo • $14
Mickey Mouse and Pluto Holiday Plaid Slippers for Adults • Disney • $14.96
Eeyore Sleep Mask for Adults • Disney • $14.95
CATH KIDSTON x DISNEY Umbrellas • $44
Kiehl's Since 1851 Special Edition Neiman Marcus Exclusive: Disney X Kiehl's Mistletoes Moments Butterstick Lip Treatment Duo • Kiehl's • $34
Kiehl's Since Disney X Kiehl's Mix & Mask Mini Set • Kiehl's • $49
Beauty and the Beast Cosmetic Bag – Danielle Nicole • Disney • $32.95
Art of Snow White Compact Mirror • Disney • $16.95
Danielle Nicole Disney's Beauty and the Beast Book Ivory-Color Clutch • Disney • $68
LORAC Disney's Beauty and the Beast PRO Eyeshadow Palette by LORAC • LORAC • $43.20