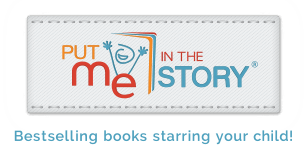 Put Me In The Story,
the #1 personalized books site in the U.S., creates personalized versions of bestselling books and books where you star alongside your favorite characters. Our gifts capture moments that matter and memories that last. With each touching picture and special dedication message, our readers have become our most dynamic characters.
Put Me In The Story inspires a love for reading, across all ages and generations, through the experience of shared, personalized stories. Share a story with your family at www.PutMeInTheStory.com
.
one of the famous names Isabella pretends to be
A Mom's Choice Award Winner!
In this New York Times bestselling children's book, your daughter can turn into the imaginative Isabella and explore outstanding women who have changed history! This personalized and heartwarming story will empower your daughter to celebrate her unique personality and imagination. Encouraging your daughter to dream without limits, this is a book to pass down through the generations. Personalize the story with your child's name and create a special dedication page with a photo and message from you.
Just how big can YOUR kid dream? In My Name Is Not Alexander, your son becomes the star of an entertaining exploration through history while learning about the great men that helped shape America. This adventure will become a fast favorite! Kickstart your son's imagination and celebrate his opportunities ahead. Personalize the story with your child's name and create a special dedication page with a photo and message from you.
My Name is Not Alexander by Jennifer Fosberry
Source: copy sent for review; all opinions are my own
Review
: First off, I want to remind you to scroll down and enter the fantastic giveaway hosted by Put Me in the Story, titled the Bring History to Life Sweepstakes. These two books – My Name is Not Isabella and My Name is Not Alexander – certainly bring history to life for children! What I love about Put Me in the Story is that they offer you a chance to personalize the book. I chose My Name is Not Alexander and changed the name to my nephew's, which means his name appears on the cover as well as the title page, and of course, it's used a couple times in the book. You can also include a photo of the recipient that appears in the beginning of the book. It's a very nice touch!
As for the actual story, the dad in the book directs his son throughout the day – from getting up, to brushing his teeth, to visiting grandma – but as he does, his son repeatedly announces his name is not what he had previously deemed it to be. Instead, he goes from one famous name to the next, like Thomas Edison and Jackie Robinson. The boy states a bit about each person, and the dad answers back in kind. However, I really loved that the author included photos as well as a paragraph of information on each person named in the back of the book. This is especially good because the boy in the story only ever says the first name, such as "I am Thomas" and not Thomas Edison. This information in the back will allow parents, grandparents, teachers, etc. to really teach kids about these iconic men in history.
While the personal aspect of it simply makes it more enjoyable and memorable, I would suggest giving this book a try even in its original form! As for My Name is Not Isabella, the story follows a similar format (though I was not given this one to review) except all of the historical names are women. I included an example above with Marie Curie (this is not how the inside of the book looks – with the facts laid out as such! It's a nice way to share the premise of the book though).
one of the famous names Alexander pretends to be
Bring History To Life Sweepstakes:
Runs Monday, February 29th through Friday, April 1st
Enter daily for a chance to win a 4 day/3 night trip to Washington, D.C. for a family of 4!
Includes airfare and hotel accommodations.
Participate in the conversation! Share on social media who you think is the most inspiring historical figure with the hashtag #BringHistoryToLife
I do not have any say on who wins this sweepstakes; I am simply spreading the word! I do think it would be an amazing opportunity for the family that wins though!