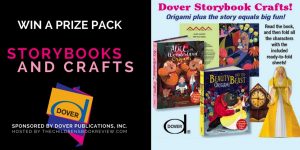 Happy Thursday! We're just that closer to the weekend; who's ready? I'm excited to be working with The Children's Book Review and Dover Publications, Inc. to share this fun giveaway! This is a sponsored post, but one that I chose to share with you all and all opinions are always my own.
If you're thinking about holiday gifts, then definitely keep Dover Storybooks and Crafts in mind. They have a great variety of items! If you keep reading, you can find a discount code and even a fun giveaway to enter!
Giveaway and Discount Code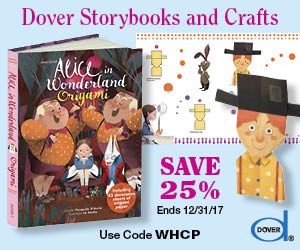 Enter to win a storybooks and crafts prize pack! Plus, everyone can use special code WHCP at Dover Publications to receive 25% off until December 31, 2017.
One (1) grand prize winner receives:
Two (2) grand prize winner receives:
Value: $98.75
Two (2) winners receive:
Value: $49.90
Giveaway begins October 11, 2017, at 12:01 A.M. PST and ends November 11, 2017, at 11:59 P.M. PST.
Giveaway open to residents of Canada and the fifty United States and the District of Columbia who are 13 and older.
Prizes provided by Dover Publications, Inc.
If the above form won't load, visit this link to enter!
Huge Dover Publications Giveaway: Books + Crafts #doverpubs #books #ontheblog
Click To Tweet
ABOUT THE BOOKS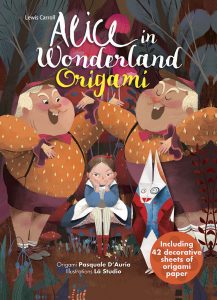 Lewis Carroll's timeless tale comes to colorful new life in this beautifully illustrated storybook/craft guide combination. A modern retelling of Alice's adventures is accompanied by easy-to-follow instructions for folding all the major characters: Alice herself, the White Rabbit, the Caterpillar, the Cheshire Cat, the Mad Hatter, The Queen of Hearts, and more. Plus, the book also includes 42 ready-to-fold sheets of origami paper
Available on Dover Publications
After enjoying a modern retelling of the classic fairy tale, boys and girls can create many of the characters and props with the 45 sheets of pre-printed origami paper included. Features full-color and easy-to-follow instructions for folding Bella and her beautiful white horse, the Beast and his castle, the fairy, one of the wolves, a rose, the clock, and a crown.
Available on Dover Publications
About Pasquale D'Auria
Pasquale D'Auria has created over 300 original models, published all over the world. He has been a Guest Star at conventions in Munich (1995), Stockholm (2000), Paris (2001), Santiago de Compostela (2003), and Madrid (2011). He has published several books and is co-author of a collective volume entitled Origami Made in Italy.
"A must!" declared School Library Journal of this ALA Notable Book and National Book Award Finalist, now available in a glorious new hardcover edition. Blending fantasy and reality in a big-city setting, three unforgettable and wonderfully illustrated tales recount the adventures of Mitzi and her little brother as they attempt to visit their grandparents, recuperate from colds, and meet the president. "Thanks to Lore Segal's antic words, and Harriet Pincus's antic pictures, children will find Tell Me a Mitzi a hilarious picnic." — Publishers Weekly
Available on Dover Publications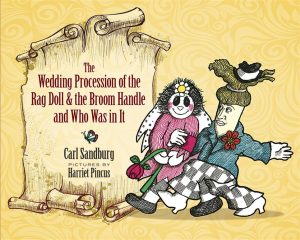 The Rag Doll was blessed with many friends — the Wisk Broom, the Furnace Shovel, and the Coffee Pot among them — but when it came time to marry, she chose the Broom Handle. On the day of their wedding, the bride and groom were attended by a fantastical procession of well-wishers: the Spoon Lickers, the Tin Pan Bangers, the Easy Ticklers, the Musical Soup Eaters, and other whimsical characters, all marching along in a manner befitting their extraordinary names. This tale of wedding pomp and madcap mirth comes from poet Carl Sandburg's classic book of American fairy tales, The Rootabaga Stories. Marvelous drawings by Harriet Pincus, a noted illustrator of children's books, enhance the tale. Out of print for years, the book is now available in a new edition that introduces the story and its gloriously antic art to a new generation of parade-lovers, wedding-goers, and everyone who enjoys a fanciful celebration.
Available on Dover Publications
Generations of readers have treasured this 1960 Caldecott Medal winner and its tale of a little Mexican girl's excitement at the approach of Christmas. Ceci eagerly awaits Las Posadas, the traditional nine-day series of yuletide celebrations. This year she'll lead the candlelight procession that reenacts Mary and Joseph's trek to Bethlehem. Meanwhile, Mother takes her to the old marketplace to choose her very first piñata. Ceci is dazzled by the colorful array of options, and after making her choice has second thoughts about the fate of her piñata once the posada takes place. Graced by evocative illustrations, this international holiday classic is now available in a lovely hardcover edition.
Available on Dover Publications
OFFICIAL LINKS
Facebook: https://www.facebook.com/doverteachers/
Twitter: https://twitter.com/doverpubs
Pinterest: https://www.pinterest.com/doverpublishing/