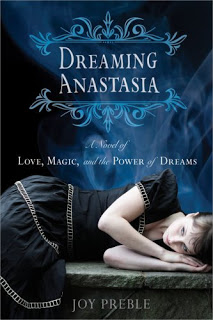 Dreaming Anastasia- Joy Preble
By: Lauren
I had already posted my basic thoughts on the book, as well as the summary, last week but now I'm going to fill you in what I thought about it overall. First off, if you want the summary again:
Now, I think this is a really great historical fiction novel. I only knew a little bit about Anastasia Romanov, but I feel that Joy Preble wrote her story in such a way where I want to know more about the real girl and the events that surrounded her and her family's death. As for Dreaming Anastasia, it's a very unique and imaginative story that is sure to please many. I felt myself wondering what would happen all the way through…of course, parts are fairly obvious and would shock me greatly if they did not happen, but some things were surprising and I never truly knew how the end would be until it was there.
When it comes to the end, I loved it. I'm not always a huge fan of books' endings even if I loved the book as a whole, but I really felt that Joy Preble wrote it in a pleasing, yet realistic way. I hate when all books wrap up with a nice bow, unless it seems fitting, but this book does not and I'm very happy it's that way. I really do recommend people read this. I think it would be a great story to discuss in a book club as there is many parts you could talk about: history, fairy tales, and more.
Giveaway-
Joy was kind enough to write up an Anastasia Romanov Quiz for all of you to answer. If you win, you'll get your own copy of Dreaming Anastasia.
Open To: U.S. and Canada
Ends: October 1
To Enter: Take the quiz and email me the answers here: lauren51990 AT aol DOT com with the title Anastasia Entry and then your name. Got that?? By doing the quiz, you will be entered but only the ones with the MOST right answers will be put in the "pot to win." Feel free to look up the answers though! 🙂 After you email, leave a comment here saying you sent it so I know and leave your thoughts on the overall quiz and the review if you wish.
Extra (LEAVE A NEW COMMENT FOR EACH PLEASE!
+1 if you follow
+1 if you post about this somewhere
+1 for each giveaway you enter on my site, so if you enter them all…that's a lot of extra entries!
How Well Do You the Real Anastasia Romanov?
In Dreaming Anastasia, Anastasia Romanov might not be quite as dead as the history books say. But how well do you know the real Anastasia? Check your knowledge with this quiz and email your answers to Shooting Star. The quizzes with the most right answers will be entered in a drawing for a swagilicious autographed copy of Dreaming Anastasia!
So let's see how well you know this famous Russian princess!!
What was Anastasia's actual royal title?
On her mother's side, to what other royal families was Anastasia related?
What were the names of Anastasia's sisters and her brother?
Anastasia's father, Nicholas, held the title, 'tsar.' What is the etymology of that title?
When was Anastasia born?
The Romanov family was often gifted with amazingly beautiful decorative eggs at Easter. Which famous jewelry making family created these eggs?
From what very serious blood disorder did Anastasia's brother suffer?
Anastasia's mother trusted a particular holy man who some believed was evil. What was his name?
What was the name of the revolutionaries that overthrew the Romanov family?
Anastasia had a pet spaniel. What was his name?