Guest Post with Author Eve Marie Mont + Giveaway On Her Site
First of all, thanks so much to Lauren for inviting me to guest post on Shooting Stars. When I read that she was a college student who had launched her own author promotion business, I was seriously impressed. Then when I asked her for suggestions for what to write about for my guest post, she mentioned something about music as an inspiration for writing, and I got really excited. When it comes to writing, I am definitely inspired by music, sometimes playing a particular song over and over again as I imagine a scene in my head. For Free to a Good Home, I wanted the songs to convey the journey Noelle takes to find love and ultimately, to find herself. Since the book takes place over the course on a year, with a chapter for every month, I also wanted the songs to convey the changes in season, along with the changes in Noelle.
Throughout the novel, Noelle is torn between two men—Jay, the ex-husband who no longer loves her, and Jasper, the adorable musician who might be perfect for her, if only she could get over Jay. As a veterinary technician, Noelle is used to sheltering and protecting animals, but this selfless compassion sometimes makes her a doormat in her personal life. So when Jay asks her to take care of his ailing mother, Noelle says yes even though the woman despises her! Jasper also has a gorgeous ex-girlfriend who won't go away, making it difficult for Noelle and Jasper to make any progress toward a relationship. Of course, her trusty and lovable Great Dane, Zeke, keeps her company throughout as she tries to make sense of her life and figure out where she truly belongs.
While the descriptions next to each song in the playlist might not makes sense until after you read the book, the songs are organized around pivotal scenes. You can listen to the playlist on MySpace:
1. Reunion with Jay—Keane "The Frog Prince"
2. Christmas—Nat King Cole "The Christmas Song"
3. New Year's party—Amy Winehouse "You Know I'm No Good"
4. Jasper's band—Barcelona "Stars"
5. First impressions—The Shins "Phantom Limb"
6. Lunch at Marilyn's— Howie Day "She Says"
7. Blithewold—Coldplay "Rainy Day"
8. Slow dancing—Billie Holiday "He's Funny That Way"
9. 4th of July— Stevie Wonder "Don't You Worry Bout a Thing"
10. August—Keane "Try Again"
11. Labor Day Weekend— Bruce Springsteen "Girls in Their Summer Clothes"
12. Halloween—Coldplay "Trouble"
13. Second chances—Daughtry "What About Now"
14. Thanksgiving—Erin McCarley "Gotta Figure This Out"
15. Christmas Again—Imogen Heap "Just for Now"
16. Full circle— Jason Mraz & Colbie Caillat "Lucky"
If the book sounds like something you'd enjoy, check out the National Pet Adoption Month giveaway contest on my website until July 18th. Also, if you'd like to read a sneak preview of Free to a Good Home, click here.
Right now, I am revising my second novel, a YA book inspired by Jane Eyre, and the playlist is up to twenty-one songs. It's kind of an addiction.
Thanks again, Lauren! This has been fun!!
Lauren's Thoughts: Thank you so much to Eve for sharing a guest post here. I love books that have a playlist attached so it was really fun to see this one. I know the story I'm working on myself has a nice list of songs. It's great…really gets you into the book as a writer and a reader. I do hope you all check out her contest. If you're in a book club or want to start one with friends, you definitely need to enter!!!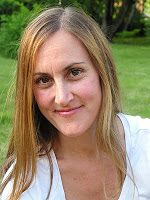 Bio:
Eve Marie Mont lives with her husband, Ken, and her shelter dog, Maggie, in suburban Philadelphia, where she teaches high school English and creative writing. Free to a Good Home is her first novel.
Synopsis:
Noelle Ryan works as a veterinary technician at a New England animal shelter, helping pets find the perfect homes. If only it were as easy to find the same thing for herself. After discovering that she can't have children—and watching her marriage fall apart after a shocking revelation by her husband—Noelle feels as forlorn and abandoned as the strays she rescues.


She can't seem to get over her ex, Jay. Unfortunately, all Jay wants from her is a whopper of a favor: serving as a caretaker for his elderly mother, who still blames Noelle for the breakup. While Jay heads off to Atlanta to live the life of a bachelor, Noelle is left with only her Great Dane, Zeke, to comfort her. But when a carefree musician named Jasper gives her a second chance at life—and at love—Noelle comes to realize that home is truly where the heart is.

Amazon Associates: If you buy the book from the link above, I will get a small percentage. Thanks for supporting the blog!