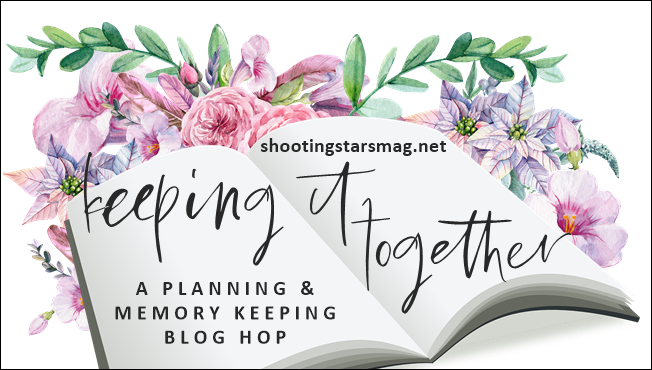 It's time to share all things planning, scrapbooking, memory keeping, with the awesome Alexandra and Rebecca Jo! Link up with us below.
Keep It Together (September 2020): Fall Bucket List
I'm a little early in posting, but Leslie and other bloggers will be sharing their Fall 2020 Bucket Lists on Monday, so feel free to join in! I actually started listing my bucket list items in my planner, but I'm a slacker and I didn't finish that up and get photos – so you'll have to wait to see that! However, I can still give you my list!
Eat a caramel apple
Have some sort of Halloween movie night
Put together birthday and anniversary gifts that take place in the Fall
Go to the park
Start dance class again
Read two mysteries/thrillers from Book of the Month
Attend an outdoor Fall or Halloween event
Watch the second season of Dead to Me on Netflix
That's about it for me. I'm sure I'll do some other fun Fall/Halloween themed things, because it's my favorite time of the year, but I don't want to have too long of a list! I'll be sure to share any and all things I do though, of course!
What's on your Fall bucket list? Even with COVID, I hope you can find some fun things to do, read, eat, enjoy!
Planning…Stocking Stuffer Posts!
I'm really trying to plan ahead on the blog so I'm not doing everything so last minute. Of course, it doesn't always happen, but I am getting some things scheduled. It might still be September, but I'm already thinking ahead to Christmas and the holidays. I notice every year that blogs tend to have gift guides and present ideas so close to the actual holidays – when are you supposed to get these items or implement these ideas? Therefore, I really want to focus on the holidays in November and that includes gifts!
I love the idea of stocking stuffers. You don't have to celebrate Christmas to appreciate a good stocking stuffer gift – basically anything small enough to fit in a standard stocking! These make great gifts for co-workers, friends, teachers, and even family members. Just because it's small doesn't mean it's cheap! We're getting closer and closer to October, so I want to get some of these posts figured out soon.
That's where YOU come in:
What type of stocking stuffers do you love to give and/or recieve?
Who could you use stocking stuffer gift ideas for this year?
Do you sell anything that would be considered a stocking stuffer, and if so, are you interested in working with me? (profile, review, giveaway, etc. – I'm open to ideas!)
Now it's your turn! If you have your own Keep It Together post, link up here:
You are invited to the Inlinkz link party!