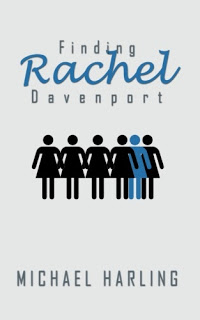 I had mentioned this on the blog already, but now it's time to get started! The above cover for Finding Rachel Davenport by Michael Harling is the paperback version and we think people out in the online world might be able to come up with something even better! Think you have what it takes? Enter enter enter!!
Regardless of whether you want to enter or not, you can get the novel for FREE during the month of July. This is great for those that want to read the book before designing the cover…or even for those of you who would rather just read the book. You can also get Mike's Postcards trilogy for free this month! I reviewed Postcards from Across the Pond back before Mike became a client and highly enjoyed it, so these are also some fun picks…perfect for the summer!
For more details on both of these things…read on!

Free Books-
Visit this link to download any of Mike's books for FREE! (You can even contact him about a discounted price on the paperback for Rachel)
There is a catch though!! If you download any of these books, Mike would really appreciate a review on Amazon.com and/or Amazon.co.uk. You can always post a review on Goodreads as well! Of course, you're more than welcome to review the book on your blog AS well as posting on any of these outside sights.
Offer expires 30 July 2013 so fire up your e-readers and start downloading!
Cover Contest (Open Now and Ends Friday, August 9th – if you want more time, get in touch and we might extend the giveaway)

Open Internationally!
1. Redesign the cover for Finding Rachel Davenport by Michael Harling. Please use free images or things you've created yourself. It must be your own design. This is a fun contest for those that like trying out their designing skills or already like designing buttons, backgrounds, etc.
2. Michael Harling, author of the novel, will be the final judge on who wins.
3. If you do win, you will receive a paperback copy of Finding Rachel Davenport with YOUR cover, courtesy of the author.
4. If we get a good enough number of entries, I will look into adding more prizes for the grand prize winner…and perhaps even some runner ups.
5. Please spread the word whether you are entering or not, especially about the free e-books during the whole month of July! Utilize this if you need too, but you can still enter without reading the book!
Please Read-
If you win, you're cover is only used for the novel YOU receive. It's meant to be a fun prize for taking the time to come up with a cover. You own the rights to your own cover. If you are a professional designer, this probably isn't the contest for you…this is merely to have fun seeing what types of covers fans could think of and honoring one of the best with their own design featured on the book for THEM. This is a contest many people have done in the past with YA books. The covers people make aren't terribly elaborate, but they are fun to make for many and always exciting to see and share with others.
Post Your Entries
If you are a blogger, post your entry in a blog post and link up in the Mr. Linky below so Mike can easily find your entries.
If you are a not a blogger, please email your entry to me: lauren51990 AT aol DOT com and I will try and manually add your entry to this post so everyone can see what you've created and all entries are in the same area!
UPDATE- Mr. Linky isn't working at the moment, so all current entries should be emailed (but please post on your blog if you can)