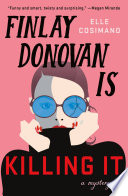 Finlay Donovan Is Killing It
by
Elle Cosimano
Published by
St. Martin's Publishing Group
Genres:
Fiction
,
Mystery & Detective
,
Women Sleuths
Format:
Hardcover
Goodreads
"Getting the job done" for one single mom takes on a whole new meaning in Finlay Donovan is Killing It.
One of "The Most Anticipated Books of Winter 2021" —ParadeOne of "The Most Anticipated Debuts of 2021" —BustleOne of "The Most Anticipated Mysteries and Thrillers of 2021" —GoodreadsOne of "The Most Anticipated Crime Books of 2021" —Crimereads
"Funny and smart, twisty and surprising."—Megan Miranda
Finlay Donovan is killing it . . . except, she's really not. She's a stressed-out single-mom of two and struggling novelist, Finlay's life is in chaos: the new book she promised her literary agent isn't written, her ex-husband fired the nanny without telling her, and this morning she had to send her four-year-old to school with hair duct-taped to her head after an incident with scissors.
When Finlay is overheard discussing the plot of her new suspense novel with her agent over lunch, she's mistaken for a contract killer, and inadvertently accepts an offer to dispose of a problem husband in order to make ends meet . . . Soon, Finlay discovers that crime in real life is a lot more difficult than its fictional counterpart, as she becomes tangled in a real-life murder investigation.
Fast-paced, deliciously witty, and wholeheartedly authentic in depicting the frustrations and triumphs of motherhood in all its messiness, hilarity, and heartfelt moment, Finlay Donovan Is Killing It is the first in a brilliant new series from YA Edgar Award nominee Elle Cosimano.
Finlay Donovan Is Killing It is a book that I've had on my radar for awhile. I bought a copy soon after it was released and read it as quick as I could. I will say that I didn't quite adore the book as much as I thought I would, but I still highly enjoyed it. There is definitely the need to go along for the ride and not think about how realistic the whole story is, but that didn't really bother me. I actually liked that while the book is a bit out there in premise, everything that happens could actually happen in real life. It might not be likely, but it's not fantasy either.
I think my problem is that the book was a bit slower than one might expect from a mystery. It's very much a character focused book, which again, is something that I don't mind – I actually like getting to know characters, even in mysteries. I think it just felt too much like a contemporary novel for awhile. Yes, Finlay was mistaken for a hit woman and had to figure out what to do, but the action took a bit to really get started.
However, the book will have a sequel and it's one I'll definitely read. I think now that Finlay's character and life has been established, that the sequel will move a bit quicker for me. Plus, I really love how the first book ended. Everything is essentially wrapped up, so no big cliff-hanger, but there's a mystery that will obviously be the focus of the second book and I need to know more!
This was a fun read, and I will keep reading more about Finlay Donovan, but it was definitely a slower read than I expected.