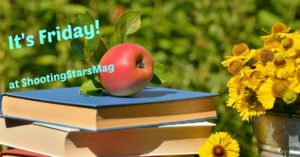 It's Friday! Can you believe we're practically half way through July? It's definitely getting really hot out, but it just means I get more time in the pool. Well, when it's not storming.
Anyway, I haven't shared some Friday Favorites in awhile so I figured today was a good time to do that. First off though, I want to remind you to enter all the Favorite Things giveaways. You can find the inlinkz here and it will have links to my giveaway, as well as the other bloggers taking part.
Friday Favorites: Netflix Stand Up, Swimming, and Giveaways! #ontheblog
Click To Tweet
I had tickets to see the new Spider Man last Friday, but we had a bad storm and the power went out, so we got tickets to come back another time. Normally this would be a downer, but I ran into a friend of mine and her boyfriend while we were there and we ended up going back to their place to watch Moana (neither of them had seen it) so it ended up being a good night anyway! I still need to see Spider Man though.
I got to hang out with another friend Saturday night. She came over and her, myself, and my sister all watched Chris D'elia on Netflix. His stand up, Man on Fire, was really funny. He's got an amusing way of moving his body and doing impersonations of people. If you remember the show Undateable, he was one of the main guys on that.
As I write this, I've read 98 books so far this year! Woah. By the time you read this, it might actually be 99 though because I'm so close to finishing up another book. I tend to read at least two books at a time – one on my Kindle and one physical book. I just go back and forth and it's easy to follow. I love having a book IN the pool with me – yes, in the pool – so physical books are ideal for that. You can friend me on Goodreads!
Speaking of my pool, love all the pool time! I went swimming Saturday and Sunday last weekend. Normally I would have swam today, but we had those crazy summer thunderstorms. We'll see how tomorrow goes. At any rate, this weekend should be prime swimming and reading weather!
I'm finally feeling better! I had an ear infection and then some other health problems in the last week, but yesterday was the first day I really felt good and that's always something to appreciate!
And there you have it – my top 5 favorites of the week! Do we have anything sort of in common? What did you love this past week?
ALSO- August is my 10 year blogoversary month and I want to do a lot of celebrating, because it's just mind-boggling to me. And that's 10 years with this blog – not just blogging in general – because I know some people have blogged for YEARS but on a variety of blogs. Anyway, I'm looking for people that want to celebrate with me! Would you want to write a guest post for the blog? Or co-host a giveaway with me? Let me know!