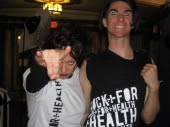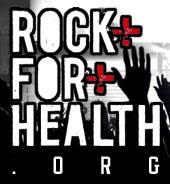 Rock for Health

www.myspace.com/rockforhealth
www.rockforhealth.org
We talked with the person in charge of Rock for Health, Kristina Grossmann, about what they do, who supports them, and what everyone else can do as well…whether you're a touring band or not. I must say though, if you're in a band, you definitely need to read this! After all, it's all about helping you!
1.What made you decide to start Rock for Health? How exactly do you help touring bands?
I have been working in the industry for quite some time, doing everything from managing, promoting, booking, working at labels, and touring. I've seen and experienced first hand the way an artist's health affects their careers and performance when they don't take the appropriate action. I started researching musicians and healthcare, and found out that there is not much out there that can help them.
ROCK FOR HEALTH seeks to educate artists on health issues, provide necessary medical information and be an advocate for musicians in regards to health insurance coverage and long-term care. A population that is better informed about its health care coverage options will be better able to access needed care.
ROCK FOR HEALTH will inform musicians on a wide variety of health issues including preventative health services, social, mental and occupational outreach. Through leadership, communication, and partnerships, ROCK FOR HEALTH is dedicated to the creation of a healthy musical environment in which artists and performers can perform at their peek physical and mental abilities.
2.Rock for Health went on tour with The Dresden Dolls during their winter 2007 tour. How did that come about? What was the reception like at the shows?
The Dresden Dolls tour at the end of 2007 was awesome! We made 200% more than what we expected. The Dolls have a very tight-knit fan base that was very interested in ROCK FOR HEALTH and what we were about. Kids donated, bought tee shirts, and hung out with us, and were genuinely excited about our company. We cannot thank Amanda and Brian enough (as well as Emily White!) for supporting us and helping make the tour the best it can be.
3.What particular bands or artists, besides The Dresden Dolls, have backed the organization with their support?
Bands that have expressed interest and have supported us are: Bayside, Chiodos, Circa Survive, Envy On The Coast, Meg & Dia, The Almost, Anberlin, The Spill Canvas, Medicated Kisses, The Homefront, Therefore I Am, The Fiery Furnaces, The Men, A Loss For Words, Playradioplay!, and Wild Zero. The list is growing quite rapidly!
4.You all will be heading out on the 2008 Warped Tour this summer. Will you be attending every date? How do you hope to promote at the shows?
We are very excited about being on the 2008 Vans Warped Tour this summer. It will be a great chance for us to reach a lot of artists and increase awareness to hundreds of thousands of people. We will have a merch tent set up in the non-profit world, selling merchandise, accepting donations, and talking to kids about the issue of healthcare in the music world.
We will also have a backstage set up, where we will be dealing with artists directly, with the support of a nutritional company and a national gym. There are a lot of exciting things we have planned for the artists. It's going to be great!
5.If people are interested in helping out, how can they go about doing this?
Anyone can help out at any time! Adding us on myspace at myspace.com/rockforhealth, visiting our website, helping us promote by adding our banner to their sites, and joining our facebook group is one way. Buying RFH merchandise and wearing them everywhere, especially bands wearing them on-stage, is one of the best forms of promotion for RFH.
Being a government recognized 501c3 organization, all donations are tax-deductible. Donations and grants are a huge source of income for us. If anyone has any question or comments, they can email me at kristina.grossmann@rockforhealth.org.