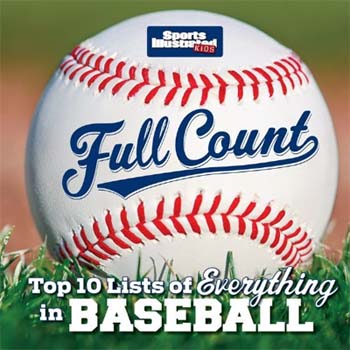 Full Count: Top 10 Lists of Everything in Baseball from Sports Illustrated Kids

Review by Lauren

copy sent for review, but all opinions are my own

Official Summary: Get everything you ever wanted to know about America's pastime in FULL COUNT:
TOP 10 LISTS OF EVERYTHING IN BASEBALL . Presented in the format of Top 10
lists, this book is a comprehensive yet fun look at the greatest aspects of the
game. From the top World Series moments to the most colorful characters, SI Kids
ranks a variety of topics from the baseball diamond. Readers are guaranteed to
love the big, exciting action photos from the Sports Illustrated collection and
the insider knowledge of SI Kids. Filled with trivia and information, this
dynamic book will be the definitive kids book on baseball.
Top 10
Rankings include:
Hardest throwers
Slickest infielders
Powerful
sluggers
Loveable losers
Fastest base stealers
Best ballparks
Review: As I write this review, my family is in the other room watching baseball (specifically the Cincinnati Reds, as that's our team), so when I was offered the chance to check out this book, I knew I had to take it. The premise is really fun, especially for someone like me who is a bit addicted to lists of any kind!
The lists that are more about the game of baseball kind of went over my head. These would be things like Toughest Pitchers, Speedsters, and Southpaws. However, it's nicely mixed in with lists that anybody can enjoy like Baseball films (no surprise, Field of Dreams is the top pick), Ballparks, and even Ugly Uniforms.
Going through the book, I was always looking out for the Cincinnati Reds and I was excited to see that they got some due attention. One of the awesome lists they made it on was Top 10 Lineups with the 1975 Reds which included Pete Rose and Ken Griffey, among others.
I was bummed to see that the Reds did not make the Top 10 Caps…and my sister and mom agree too. So many people wear Cincy Reds baseball caps, even if they aren't from this area…it just feels like an iconic cap, so it was a bit surprising not to find it among the others.
One of the more amusing lists was the Top 10 Oddest Deliveries and this is essentially players that pitch in a really weird fashion…you're sure to enjoy the photos! I know I got a big kick out of that section.
A few other sections I really liked were Families (baseball players that are siblings, father/son, etc.), Nicknames (who is The Wizard of Oz? What about Kung Fu Panda?), and Scandals (because who doesn't like a good story?)
Overall, this is a fun book. My mom commented that if she had a table in her living room, this would definitely be put out as a coffee table book. It might be from Sports Illustrated Kids, but it's not just for younger readers…veteran baseball fans will find a lot to enjoy, and perhaps even reflect on.