*product for review; all opinions are my own*
I think Funko Pops are the cutest things, but it's hard to figure out where to keep them all. I have most of them on my bookcase, but I know as I grow my collection, I'm going to need to find other places to keep them. This is especially true for the Harry Potter Funko Pops are there are tons available and I have very few them…so far!
#FebruHARRY2018: Review of a Funko Pop Display #ontheblog from @displaygeek. Which would you choose?
Click To Tweet
Therefore, I was really excited when I came across Display Geek on Etsy and when I reached out about featuring their shop, I was offered the opportunity to review the Harry Potter Funko Pop Display Shelf. You guys…this is such a clever idea, and I love it!
Everything is shipped collapsed, if you will, so you are tasked with putting the shelves together. My family helped me with this, but it was easy to do. My mom likened it to putting a cardboard box together. Once you have the shelves ready to go, then you can add the backgrounds. I'll share closer looks at each level below, but for now, you can see that there are three backgrounds. I chose where I wanted each one and then there were long magnets included that connected each side of the image to the side of the shelf; the finished look of the background is a bit curved, if you will, coming up to the ends of the box. I like the look and I think the backgrounds are cool looking, though the middle one is definitely my favorite (floating candles in the Great Hall).
The top shelf is where I put the book cover background. I thought having that first would be a nice touch, since it's where the world of Harry Potter starts…in the pages of a book.
As I mentioned above, the middle shelf is where I put the great hall/floating candles background. I just really like the look of this one!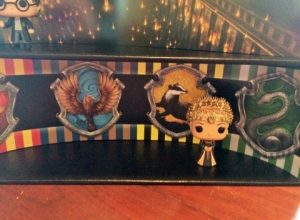 Finally, I put the Hogwarts House emblems background at the very bottom. As you can see from the various photos, I only have two larger Harry Potter funkos. I have a couple keychain versions, but those are still on my bookshelf. I, obviously, need many more, but I think you get the idea of what it will look like with Funko Pops in front of the various backgrounds. You could even put certain characters in front of their house at the bottom – one of the Golden trio for Gryffindor, Luna for Ravenclaw, Newt Scamander for Hufflepuff, Draco for Slytherin etc.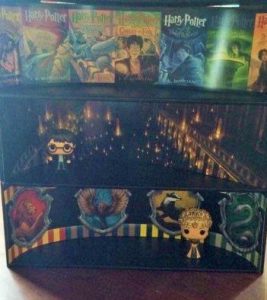 My one complaint would be that some of the backgrounds are coming undone here and there, but the magnets holding them stick to the display shelves, so for now, it's been easy to just push them back in place. This only seems to be happening with the top background, but I figure if it no longer wants to stick in the future, I can always utilize some hot glue or something to make it permanently stay. Nothing too worrisome, but I want to be honest in my reviews!
If you're curious about getting your own Funko Pop Display, please do check out Display Geek on Etsy. They donate $1 for every sale to the Cancer Research Institute – so it's supporting a good cause! Interested in following on social media? Display Geek can be found on Facebook, Twitter, Instagram, etc.
What do you think? Would you use one of these shelves for your Funko Pops?