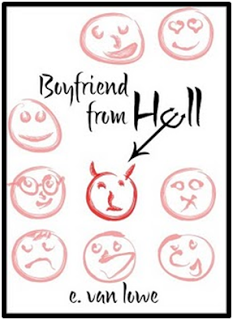 Interested in having author E. Van Lowe visit you and your friends personally? Yep, that can happen. But you have to help him out first. You see, his second YA novel Boyfriend from Hell is out now with an indie publisher and we want to show that they can still succeed! Are you with me? I hope so!
Here's what you do: If you have an in-person book club already, then awesome…but you can always form one for this giveaway. Grab some friends, family members, classmates, library patrons, or even nearby bloggers and enter away.
Rules-
-your "book club" must have at least 8 people buy Boyfriend from Hell, which can be in print or e-book.
-once you do, either email a picture or screenshot of your receipt (or the book, if you get the print version) to my email: lauren51990 AT aol DOT com
-all entries must be sent to me by November 1, 2011…so we can aim for the visit being that month. If you KNOW you're going to enter, but need more time, please email me in advance so we can try and work something out.
-all the "book clubs" that enter will be eligible for the grand prize. However, this is only open to those in the U.S., excluding Hawaii and Alaska (sorry!!)
-the grand prize, as stated above, is an in-person visit by E. Van Lowe (yes, he will fly to where you live). E. can then visit with you, answer questions about the book, sign books or bookplates, and generally enjoy time with some very loyal and generous fans.
-I'm currently working to try and arrange some runner-up prizes as well. Nothing as big as a personal visit, but I want to reward more than one "book club" for supporting the love of reading and making sure that Indie books have a shot too.
Fore more on E. Van Lowe and Boyfriend from Hell, visit his website!
Summary of Book-
Fifteen year-old Megan Barnett and her single mom, Suze, have a special relationship–they are friends, close friends, who do almost everything together.
"But come on, guys, she's my mother…Can I really tell her that while we're snuggled up on the sofa watching Spider Man Three, I'm secretly undressing James Franco with my eyes? Of course not…"
The special bond takes a turn for the worse when Suze decides to start dating again. She hasn't had a man in her life since Megan's father left ten years ago.
Enter two mysterious young men. Megan's new classmate, sinfully attractive bad boy, Guy Matson, and the dangerously handsome art dealer, Armando. Before long Megan and Suze both wind up in steamy relationships. But neither of the handsome pair is quite what he seems. In fact, one of them is Satan, with his sights set on a new bride. Megan has precious little time to figure out how to stop him. If she doessn't, either Megan or Suze are quite literally going to HELL.
Boyfriend From Hell is the first book in the Falling Angels Saga from the author of the gruesomely hilarious, Never Slow Dance With A Zombie.