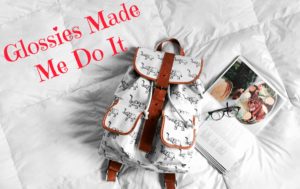 Welcome to the first Glossies Made Me Do It of 2018. This link-up happens the first Friday of every month, and Ashley of Happy.Pretty.Sweet and I would love it if you joined us sometime! The idea? Share what a glossy (magazine) has made you do recently – try a new recipe/product, listen to a song, read a book, start a discussion/think of something new! We aren't picky!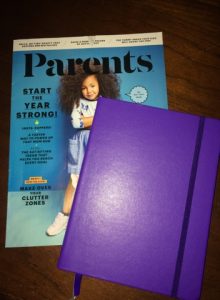 Why yes, I do subscribe to Parents magazine and the January 2018 issue just helped inspire me even more about starting a bullet journal. Don't know what a bullet journal is? Check out this website for more, but basically it's a planner that lets you customize it however you want. Most people use a notebook or paper that has a dotted pattern making it much easier to write and doodle across the page. You can google image or Pinterest all sorts of examples. I saw so many cool bullet journals last year and I knew I wanted to try it, but I kind of love my other paper planners.
What's a planner lover to do?
Use more than one planner of course! I decided to use my bullet journal as an entertainment journal of sorts for all 2018. It's going to keep track of the books I want to read/actually read, movies I want to watch/actually watch, and so on and so forth. I think it will be a really fun look back at the year – in terms of fun and entertainment!
Glossies Made Me Do It (Jan 2018): Join the blog link up on what magazines have you inspired you to do! Mine is start a bullet journal. #ontheblog #bujo
Click To Tweet
This issue of Parents has a two-page spread called Why You Want a Bullet Journal. Sure, it's geared toward people with kids, but anyone can find inspiration. There are little symbols that people use as shorthand – like a circle means one thing, a "<" means something else. Parents gives a run down of what these all mean and I think I might utilize some in my own bullet journal this year.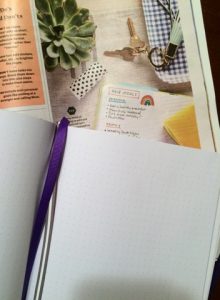 I actually got my bullet journal from Michael's for $5! Yes, that's right! Only $5!! I love that it has two ribbons so I can put them in different spots, helping me mark certain areas – like books I need to read each month and another page. I could also easily use a bookmark. I think I'd use one of those magnetic bookmarks as they seem to hold better with journals; I'd be afraid of a regular bookmark falling out over and over. The journal is a good size so you could easily carry it around. I'd probably keep mine at home most of the time, since it's not a day-to-day planner, but if you want to make yours one, it's great to tote around!
One thing that I love about the bullet journal is how creative you can be. I'm not a great drawer, but it's still fun to see how people decorate theirs and I want to do my best at making little doodles here and there. I might even include some good quotes from books read or movies/shows watched. It'll be a memory book of sorts in that way. I do know that I'm going to use some fun stencils to help make sure the journal looks nice since I'm not the best drawer, or even writer (my handwriting is okay). I ordered a couple of stencils but they haven't come in yet, so nothing to share yet. Once I get started on my bullet journal I'll be sure to do another post and share what some of the pages look like!
So tell me – have you ever used a bullet journal? Would you?
The link-up below will be open until January 19, so feel free to join Glossies Made Me Do It this month when you have time! We'd love to have you! If not this month, come back on Friday, February 2nd for the next Glossies link-up of the year!