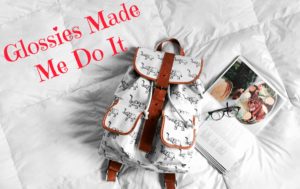 Welcome back to Glossies Made Me Do It where myself, Erika, and Ashley all share something that a new magazine has "made" us do! This is also a link up so PLEASE think about joining us – the linkup is open for the next two weeks. You can use a new magazine or an old one; it doesn't matter. Unfortunately, Miss Erika can't join us this month but be sure to check out Ashley's blog today!
Today I'm using the May 1 edition of People magazine. I subscribe, so I got this ahead of time, but it should hopefully be the current issue in stores this week!
I saw the article "100 Ways to Look and Feel More Beautiful" and I thought it might be fun to try some of these out. Unfortunately, I didn't have time to do much but I thought I'd share the two that I did, as well as the few that I still want to try doing this month. Let me know what you'd like to do this month to feel more beautiful!
Glossies Made Me Do It: 100 Ways to Look AND Feel More Beautiful
Click To Tweet
The Ones I Did
#44 – Get a bright pedicure in a color you've never tried before.
-I went this past Saturday to get a pedicure for my mom (a mix of a Christmas/Mother's Day gift for her) and I ended up getting a sparkly, purple color. I've worn purple polish before, but I don't think it's been on my toes – and the sparkle is something a bit new! Every time I see my feet, I have to smile.
#54- Shop the sale rack for hidden treasures- and brag about your steals.
-I got these really cute jeans at Old Navy on the clearance rack. Granted, this was before I read this article, but it still counts! I love getting good deals on clothes. Sorry the photo is a bit dark – I'm planning on doing a whole post on some of my new clothes buys, so I'll share more then!
The Ones I Still Need to Do
#21- At night put on foot cream and wear socks to bed to lock in moisture.
-This is something I've done in the past, but not for awhile. I know my feet will get beat up a lot this summer – I tend to walk more in the summer months – so this is a routine I should get into.
#33- Book an appointment to get your hair trimmed.
-It's about time I got a hair cut, and it really needs to be thinned out a lot too!
#71-73- Read a new beauty book.
-This is a few numbers because there are three books featured. However, the one I want to buy and read this month is A New Model by Ashley Graham.
#87- Consider spraying your perfume other places besides your wrists and neck, like your hair!
-I meant to do this earlier in the week but never did, so I'll have to do it soon! I'm curious if I'll smell the perfume more if it's in my hair!
And that's it! Is there anything on the above options that you'd like to do? Be sure to grab the issue so you can see the full 100 things!
ETA: Sorry, here's the link up so you can join in!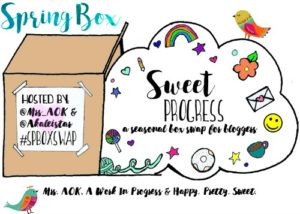 The lovely Ashley from Happy.Pretty.Sweet (she does Glossies Made Me Do It too) and Dean from Mrs. AOK do a blog swap every season and I took part in the Spring Sweet progress swap. I was matched with Lowanda from Sunshine and Elephants. Lowanda is someone I had been getting to know so we were both thrilled to see we could buy each other some fun goodies!
Check out my goodies from the Sweet Progress Spring Blog Swap- Sign up for Summer!
Click To Tweet
Here's a look at all the fun items that Lowanda sent me: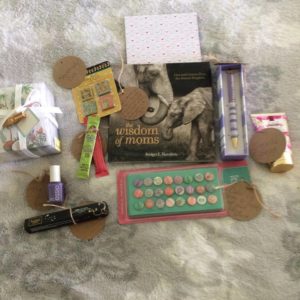 Doesn't it look awesome? The little brown tags are notes that Lowanda wrote me explaining what each item was and why she chose it. It's such a sweet touch, and I wish I'd done something similar.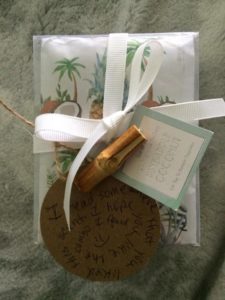 These sachets are a mix of coconut and pineapple scent and OMG. They are heavenly. I need to start placing some in my drawers to make my clothes smell nice and fresh when I pull them out!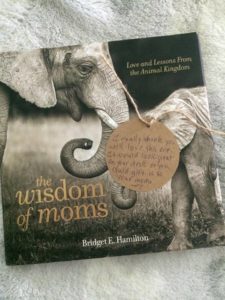 This book The Wisdom of Moms is so cute. It's full of adorable mother/child animal pictures with a variety of quotes and sayings. It's currently sitting on top of my fireplace in honor of the upcoming Mother's Day.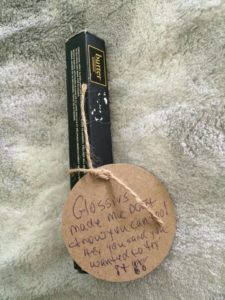 Lowanda wrote about beauty myths in her Glossies Made Me Do It post last week and I must have mentioned someone telling me to try white eyeliner – the black makes my eyes look to small because they tend to squint anyway. Taking that, Lowanda got me this white Butter London eyeliner and I can't wait to try it out!!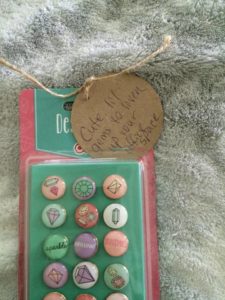 I've been trying to decorate my office space at work, so along with a really fun pen, Lowanda also got me these cute push pins. I'm using a couple of them already to hold up a picture of my nieces and nephew. I need to get some other photos to use some of the others!
Here's a look at half of the goodies I got – the push pin gems, the pen I mentioned above, my Wisdom of Moms book, eyeliner, and some great smelling body wash!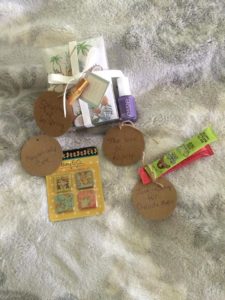 The fun sachets I showed above, a great purple Essie nail polish (my favorite color is purple and I LOVE Essie), fun magnets that are now on my fridge, and two powders to add to water to make a margarita- which Lowanda said was perfect for Cinco de Mayo!
Thank you so much Lowanda – be sure to visit her blog here – and thanks to Ashley and Dean for putting together the swap. Follow them to learn about the eventual summer swap!