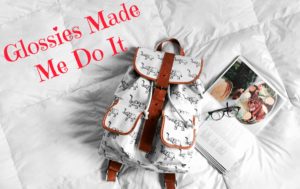 Welcome back to Glossies Made Me Do It. Every first Friday of the month, myself, Erika from Cat Eyes and Skinny Jeans, and Ashley from Happy Pretty Sweet all share something that glossies (magazines) made us do! This is a link up – it will be at the bottom of the post. You have two weeks to link up with us, and I hope you do!
This month, I loved Oprah's July 2017 magazine as it focuses a great deal on books. In fact, she's sharing 20 top summer reads and I thought I'd show you the ones that I have now added to my to-be-read list! Would you add any of these?
Glossies Made Me Do It with Oprah's July Issue: What books do I need to read?
Click To Tweet
Magpie Murders by Anthony Horowitz: Add on Goodreads
When editor Susan Ryeland is given the manuscript of Alan Conway's latest novel, she has no reason to think it will be much different from any of his others. After working with the bestselling crime writer for years, she's intimately familiar with his detective, Atticus Pünd, who solves mysteries disturbing sleepy English villages. An homage to queens of classic British crime such as Agatha Christie and Dorothy Sayers, Alan's traditional formula has proved hugely successful. So successful that Susan must continue to put up with his troubling behavior if she wants to keep her job.
Conway's latest tale has Atticus Pünd investigating a murder at Pye Hall, a local manor house. Yes, there are dead bodies and a host of intriguing suspects, but the more Susan reads, the more she's convinced that there is another story hidden in the pages of the manuscript: one of real-life jealousy, greed, ruthless ambition, and murder.
Party Girls Die in Pearls by Plum Sykes: Add on Goodreads
It's 1985, and at Oxford University, Pimm's, punting, and ball gowns are de rigeur. Ursula Flowerbutton, a studious country girl, arrives for her first term anticipating nothing more sinister than days spent poring over history books in gilded libraries—and, if she's lucky, an invitation to a ball.
But when she discovers a glamorous classmate on a chaise longue with her throat cut, Ursula is catapulted into a murder investigation.
Determined to bag her first scoop for the famous student newspaper Cherwell, Ursula enlists the help of trend-setting American exchange student Nancy Feingold to unravel the case. While navigating a whirl of black-tie parties and secret dining societies, the girls discover a surfeit of suspects. From broken-hearted boyfriends to snobby Sloane Rangers, lovelorn librarians to dishy dons, none can be presumed innocent—and Ursula's investigations mean that she may be next on the murderer's list.
The Bright Hour: A Memoir of Living and Dying by Nina Riggs: Add on Goodreads
Nina Riggs was just thirty-seven years old when initially diagnosed with breast cancer—one small spot. Within a year, the mother of two sons, ages seven and nine, and married sixteen years to her best friend, received the devastating news that her cancer was terminal. 
How does one live each day, "unattached to outcome"? How does one approach the moments, big and small, with both love and honesty?
Exploring motherhood, marriage, friendship, and memory, even as she wrestles with the legacy of her great-great-great grandfather, Ralph Waldo Emerson, Nina Riggs's breathtaking memoir continues the urgent conversation that Paul Kalanithi began in his gorgeous When Breath Becomes Air. She asks, what makes a meaningful life when one has limited time?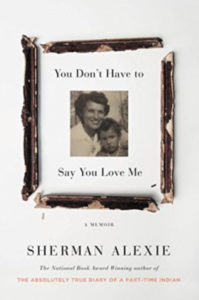 You Don't Have to Say You Love Me: A Memoir by Sherman Alexie: Add on Goodreads 
When his mother passed away at the age of 78, Sherman Alexie responded the only way he knew how: he wrote. The result is this stunning memoir. Featuring 78 poems, 78 essays and intimate family photographs, Alexie shares raw, angry, funny, profane, tender memories of a childhood few can imagine–growing up dirt-poor on an Indian reservation, one of four children raised by alcoholic parents. Throughout, a portrait emerges of his mother as a beautiful, mercurial, abusive, intelligent, complicated woman.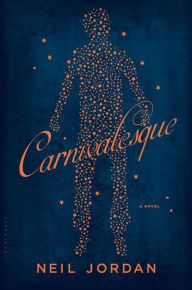 Carnivalesque by Neil Jordan: Add on Goodreads
It looked like any other carnival, but of course it wasn't. The boy saw it from the car window, the tops of the large trailer rides over the parked trains by the railway tracks. His parents were driving towards the new mall and he was looking forward to that too, but the tracery of lights above the gloomy trains caught his imagination . . . 
Andy walks into Burleigh's Amazing Hall of Mirrors, and then he walks right into the mirror, becomes a reflection. Another boy, a boy who is not Andy, goes home with Andy's parents. And the boy who was once Andy is pulled—literally pulled, by the hands, by a girl named Mona—into another world, a carnival world where anything might happen.
Chemistry by Weike Wang: Add on Goodreads
Three years into her graduate studies at a demanding Boston university, the unnamed narrator of this nimbly wry, concise debut finds her one-time love for chemistry is more hypothesis than reality. She's tormented by her failed research–and reminded of her delays by her peers, her advisor, and most of all by her Chinese parents, who have always expected nothing short of excellence from her throughout her life. But there's another, nonscientific question looming: the marriage proposal from her devoted boyfriend, a fellow scientist, whose path through academia has been relatively free of obstacles, and with whom she can't make a life before finding success on her own. 
Eventually, the pressure mounts so high that she must leave everything she thought she knew about her future, and herself, behind. And for the first time, she's confronted with a question she won't find the answer to in a textbook: What do I really want? Over the next two years, this winningly flawed, disarmingly insightful heroine learns the formulas and equations for a different kind of chemistry–one in which the reactions can't be quantified, measured, and analyzed; one that can be studied only in the mysterious language of the heart. Taking us deep inside her scattered, searching mind, here is a brilliant new literary voice that astutely juxtaposes the elegance of science, the anxieties of finding a place in the world, and the sacrifices made for love and family.
****
And there you have it! I have a lot of great sounding books that have been added to my TBR list now. I love that it's a nice mix of memoirs, mysteries/thrillers, and more! Again – anything on this list you are eager to read?
Link up your own July Glossies Made Me Do It post! You can use old magazines too if you want!