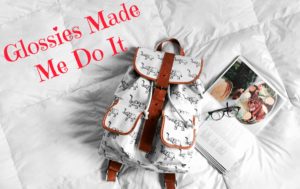 It's time for June's Glossies Made Me Do It with myself and Ashley of Happy.Pretty.Sweet.
Every first Friday of the month, we share something that a glossy (aka magazine) made us do and we'd love to have you join us! Old or new magazine – doesn't matter. Share a recipe, a book, a thought, a quote!
Future Glossies dates for your calendars: Friday July 6, Friday August 3, and Friday September 7.
Glossies Made Me Do It: June 2018
For this month's Glossies, I used the June 2018 issue of Cosmopolitan magazine (Kesha is on the cover). I love all the different recommendations Cosmo gives for the month in the beginning of their magazine, which is where I found June's find!
Glossies Made Me…Watch Ali Wong: Hard Knock Wife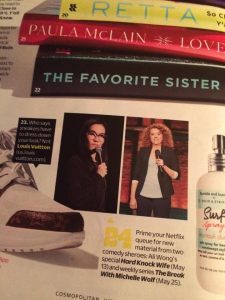 I knew Ali Wong from the show American Housewife and I think she's hilarious on there, so I was excited to see that she had a new stand-up special on Netflix. I haven't watched her first special, but this one is called Hard Knock Wife and deals a lot with having a baby. I'd say about the entire first half is all about pregnancy, breastfeeding, maternity leave, etc. That's not a bad thing though! This is obviously a comedian that moms can relate to and while I'm not a mom, I did find her quite amusing.
Ali is definitely real – she's not afraid to cuss or talk about sex, and after all the baby talk, there is quite a bit about marriage and sex. I'm not always a huge fan of these types of jokes – sometimes they just seem more crude or annoying than funny, regardless if the comedian is male or female. So I wasn't a huge fan of everything in the special, I have to admit. Also, Ali has a certain way of talking when she tells certain jokes – you'd probably have to watch to understand what I mean – but this kind of drove me nuts sometimes. I just wanted to hear her regular voice more often, I guess.
I do think Ali is funny and I'd be curious to see what moms thought of her stand-up since it's probably really easy to relate to in that regard. This wasn't my most favorite stand-up special, but I would be happy to see Ali in more (stand-up or acting).
***
Glossies Made Me Watch...Ali Wong: Hard Knock Wife #ontheblog #hardknockwife #netflix
Click To Tweet
Want to join? Come link up with us!