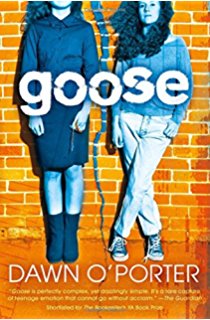 Goose by Dawn O'Porter


Review by Lauren


Source: copy from netgalley; all opinions are my own
Official Summary: Best friends Renée and Flo have been inseparable for years. But now, as
high school graduation looms, the girls' rock-solid friendship is
beginning to show cracks. Flo has her heart set on going to university,
with Renée right by her side, but all Renée wants is to stop going to
school as soon as possible. To distract themselves from the inevitable
and frightening future, Renée gets swept up in a romance with an older
man, while Flo starts attending a church group. With such different
paths and views on life, the girls start to worry that it isn't just
high school that's ending—but also their friendship.
Review: I didn't realize that Goose was the sequel to Paper Aeroplanes, but it wasn't difficult to follow along, so I really appreciated that. Goose takes place in 1997 and is about the final year of high school for best friends Renée and Flo. Both of these girls have been through a lot, but they have always had each other to rely on. Renée's mom passed away when she was young and now she lives with her Aunt and Nana, while her sister Nell lives with her father in Spain. Flo's father died not that long ago and she lives with her mum and younger sister. It's obvious that both of these girls are defined by grief in their lives, but they want to find other ways to cope with life.
Renée is more outgoing and likes to flirt with boys. She's had sex and doesn't mind doing so. Flo, on the other hand, is a bit more reserved and she's still a virgin. Goose focuses on relationships for both girls and some tough lessons are learned. It also deals with them growing apart. They both find boys who take up their time, as well as a new group of friends that Flo connects with because she has started going to church. While Renée doesn't understand church and doesn't believe in God, Flo does and it's treated with respect from her point of view. You do get Renée's different thoughts and opinions, but it's done well, so I don't think it would truly offend anyone.
I really love books that take place in other countries. It was easy for me to read and understand, though I suppose if you live in the U.S. and have never read about the English education system or heard certain slang words, you may be a bit confused. Overall, though, I think anyone could read Goose and understand what is happening throughout. After all, it's mostly about two girls growing up, growing apart, and finding what makes them them.
Goose was an enjoyable read overall. I would recommend it to older teens as it not only deals with some tough, grown-up issues, but it uses some of the language and includes some more graphic details – nothing too much though!
Song Choice:
As this book takes place in 1997, Renée and Flo are huge fans of the Spice Girls. The names of the chapters even come from their songs. Therefore, I had to include a Spice Girls song to go with this book.
"Spice Up Your Life" by Spice Girls